The November Man 2 Green Lit: Pierce Brosnan Has New Spy Franchise!
by Joel D Amos at . Updated at . Comments
The November Man does not hit theaters until August 27, but the idea of Pierce Brosnan returning to the spy action movie world is so intriguing that Relativity has already decided to ramp up and make The November Man 2.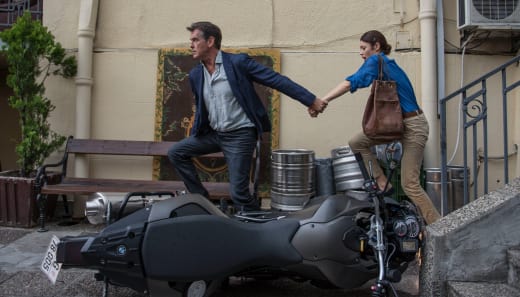 Brosnan is Peter Devereaux, a seasoned spy who retires after a not-so-pretty mission goes wrong in the opening moments of The November Man. Years later, he is pulled back into action by the CIA and quickly learns that he is merely a pawn in something larger, and much more sinister than he ever could have expected.
As you can see by The November Man trailer, it is great to see Brosnan back in action again… years after he was pushed out of the James Bond franchise for Daniel Craig.
We've seen the film and we believe that it should be a big hit, given its mind-blowing action sequences and the awesomeness that is Brosnan as a spy.
"The November Man is a gritty series that re-invents the spy genre with its master Pierce Brosnan by combining the best elements of James Bond and Jason Bourne while echoing the cool, sleek action movies of the '70s," Robbie Brenner, Relativity's President of Production, said of the announcement.
"We are excited to launch The November Man later this month and to continue to explore Peter Devereaux's dangerous world with Pierce over the years to come."
Brosnan is clearly excited as well to be back as Devereaux, and don't miss our upcoming exclusive interview with the star next week!
"The November Man is an iconic, tough character and I am excited to partner with Relativity to continue to bring him to life," the star said.
Details on the sequel's release date have not yet been announced.