Tim Burton's Batman 25th Anniversary Blu-Ray: Announced!
by Joel D Amos at . Updated at . Comments
As Movie Fanatic reported earlier, Tim Burton's Batman celebrates 25 years since its release. Now, Warner Bros. Home Entertainment will celebrate that accomplishment with a special two-disc Batman 25th Anniversary Blu-Ray edition. Look for the must-own upgrade on November 11.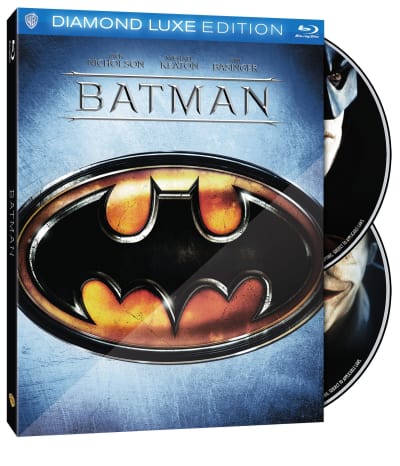 Besides the Michael Keaton and Jack Nicholson starring classic, fans will be able to check out the documentary Batman: The Birth of the Modern Blockbuster, a look at how Warner Bros. ushered in a whole new era of summer movies with their innovative marketing campaign, merchandising and franchise forward thinking that would define the Hollywood landscape we know all so well today.
The Batman 25th anniversary Blu-Ray is also a spoke in the wheel that is the 75th anniversary of Batman himself!
The Blu-Ray will land in stores and online retailers in a special Diamond Luxe packaging (pictured above) that will surely make the must-have list of all your Batman fan friends and family this holiday season.
"Batman is an incredibly important property with multi-generational appeal across all of the Studio's businesses, and we're proud to celebrate this milestone anniversary," said WB Chairman and Chief Executive Kevin Tsujihara about the release.
"From billion-dollar blockbuster films to TV, home entertainment, video games and consumer products, The Dark Knight continues to resonate with audiences worldwide and rightfully deserves his place as a global pop culture icon for the ages."
Check out our favorite Batman quotes in the slideshow below, and if you can't wait for the upgrade, you can check out Burton's Batman right now and watch Batman online.