Prepare for a whole new set of Underworld quotes. In news that we are still trying to figure out, word is that the Underworld franchise is getting a reboot.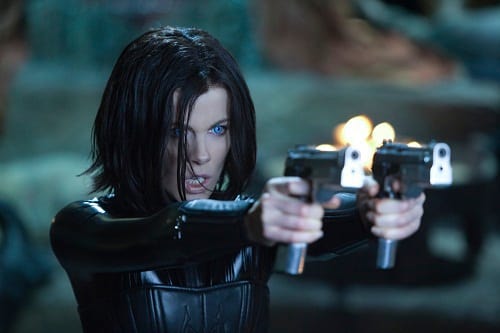 The Hollywood Reporter is saying that Lakeshore Entertainment is hard at work at rebooting the Underworld franchise and has even hired a writer in Cory Goodman (Priest) to write a treatment.
The first Underworld arrived in 2003 and became a sensation. It starred Kate Beckinsale and was from director Len Wiseman. It would produce three other films, most recently Underworld: Awakening in 2012.
There had been talk that Wiseman was going to develop a fifth Underworld film, but given the news today, we guess that the owners of the series have decided to go in another direction with the vampires battling werewolves story.
We're sure this will be an interesting take as Priest was a solid and underappreciated movie. And we note that THR is using the word "reboot," so it appears to be the real deal.
Can we just say that we hope that it is not a reboot and in fact a different direction that still uses Beckinsale? She is bloody fantastic in the role and we weren't done seeing her battling those monsters!
Watch Underworld online and see how this whole thing got started.