Woodstock Blu-Ray Review: Never-Before-Seen Moments of Peace, Love & Music
by Joel D Amos at . Updated at . Comments
For those of us who think that one of the best music documentaries ever is Woodstock, the release of the new Blu-Ray 40th Anniversary Limited Edition Revisited of Woodstock: 3 Days of Peace and Music is some seriously rocking news. And this release arriving hot on the heels of the Ron Howard-Jay-Z collaboration music doc Made in America shows this is a very good time for music docs!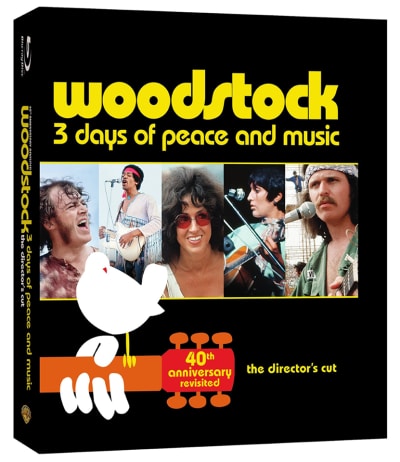 It features never-before-seen concert footage from Santana, The Who, Jefferson Airplane, Joan Baez and more. Also a treat: The inclusion of some gorgeous reproduction Woodstock Festival concert tickets and even a re-issue of the iconic Woodstock logo iron-on patch that was all the rage back in the day.
The two hours of concert footage that has never before been released is accompanied by interviews with Martin Scorsese, Michael Lang, director Michael Wadleigh, Hugh Hefner, Eddie Kramer (the concert's original chief on-site engineer and producer-engineer for Jimi Hendrix) and others who chronicle the making of the festival and the film.
We appreciated the bonus features 3 Days in a Truck, No Rain! No Rain! and Living Up To Idealism. They all add up to make a must-own music doc even more of a must-have for any music or film fan for that matter.
The never-before-seen concert footage includes tracks such as Book of Love, Everything's Gonna Be Alright, Marrakesh Express, Mr. Tambourine Man, I Shall Be Released and… Pinball Wizard!
The 40th Anniversary Limited Edition Revisited of Woodstock: 3 Days of Peace and Music also includes concert footage that was only available on rare occasions featuring the Grateful Dead's Mama Tried and Jefferson Airplane's Volunteers.
We also cherished the Woodstock: From Festival to Feature that showcases interviews, sights and sounds of the event and all from the point of view of the real people who attended, those who put on the event and those who lit up the stage. It is simply… stunning.
Woodstock: 3 Days of Peace and Music chronicled the nearly half a million people who converged on Max Yasgur's farm in rural New York to experience a cultural moment so huge it would never be replicated. It is not only a defining moment of a generation, it is also as important as a culture moment in the history of our society.
The film won the Academy Award for Best Documentary and included a film crew that even featured a future legend in Scorsese. Now that this special edition of the Blu-Ray is out, we could not recommend it enough. In fact, watch Woodstock online right now!