22 Jump Street DVD Release Date & Bonus Features: Announced!
by Joel D Amos at . Updated at . Comments
After banking $314 million at the box office and giving us some fantastic follow-ups to those awesome 21 Jump Street quotes, 22 Jump Street is set to debut on DVD, Blu-Ray and digital download.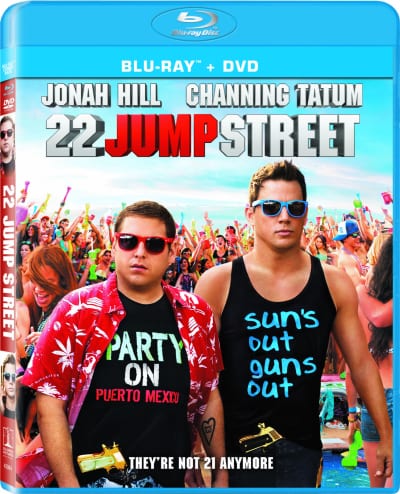 Sony Pictures Home Entertainment made the announcement today that 22 Jump Street would be available on Digital HD on October 28 and then on Blu-Ray and DVD on November 18.
The home video release features over 100 minutes of bonus content, which includes 22 deleted and extended scenes, and something that sounds bloody fantastic -- four alternative "line-o-ramas" -- which are a series of takes from some of the most hilarious scenes from the movie, all cut together.
The 22 Jump Street home video release will also have six featurettes, plus three bonus videos, and we're eagerly excited to check out The Perfect Couple of Directors doc, which looks at film helmers Phil Lord and Chris Miller, as well as the off-screen friendship of 22 Jump Street stars Tatum and Hill.
Before we get to the full details of the release, check out this video we just got today of Tatum and 22 Jump Street co-star Jillian Bell with a "rap video" from the movie that has never before been seen. Ladies and gentlemen, we give you Dick Graze!
Here's the full lowdown on the DVD and Blu-Ray release:
Blu-ray & DVD Bonus Features Include:
Commentary with Directors Phil Lord and Christopher Miller and Jonah Hill and Channing Tatum
Five Deleted & Extended Scenes
The Perfect Couple of Directors Featurette
Line-O-Rama: Schmidt and Tattoo Art
Blu-ray Bonus Features Include:
17 Additional Deleted & Extended Scenes (22 total)
Six Additional Featurettes:
Everything is Better in College: A closer look at Jenko and Schmidt's undercover transformation into college students
Janning and Chonah: Dives into the relationship of the film's two stars
New Recruits: Casting 22 Jump Street gives a look at the new cast members in the film
The Perfect Line: Ad-libbing on Set showcases the great comic actors and their improvisation in some of the film's most memorable scenes
Don't Cry Yet -- The Mr. Walters Prison Scene: Unfiltered and hilarious improvisation that occurred while filming the Mr. Walters prison scene
The Dramatic Interpretation of 22 Jump Street:A dramatic version of the film (with all jokes removed)
Joke-a-Palooza -- a montage of jokes cut from the film
Line-O-Ramas:
Jenko and the Professor
Jenko Improv Suggestions
Mercedes on Schmidt's Age
Mercedes and The Ghost
Extra Videos: Zook & McQuaid's Football Tape, Jenko Split
Check out our favorite 22 Jump Street quotes in the slideshow below, and watch 21 Jump Street online to see how this all got started!