There were two big reasons to be excited about Disney's inside Frozen special last night on ABC. First, it was announced that Frozen Fever was coming in the spring -- a short film follow-up to the studio's smash hit Frozen. Then, we got a two-minute clip from the studio's upcoming film Big Hero 6.
The clip features our main character, Hiro (voice of Ryan Potter), and his robot creation Baymax (voiced by Scott Adsit) and truly sets the tone for this film that is based on the classic Marvel comic. Seems that our hero Hiro… has hit puberty!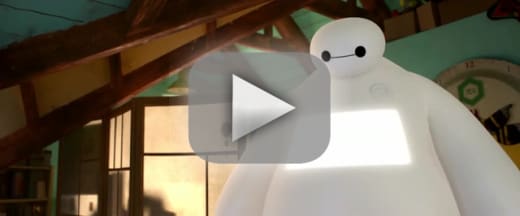 As you can tell from the full Big Hero 6 trailer, Hiro is a robotics prodigy who has a gift for creating robots that entertain him and his friends.
That skill will be incredibly important as an evil force has emerged who seeks to destroy his beloved hometown of San Fransokyo.
The gorgeous-looking film is set to hit theaters November 7 and features an impressive voice cast beyond the two leads including Maya Rudolph, James Cromwell, Damon Wayans Jr., TJ Miller, Jamie Chung, Genesis Rodriguez and Alan Tudyk.