Captain America The Winter Soldier DVD Review: One of 2014's Best
by Joel D Amos at . Updated at . Comments
One of our Top 13 of 2014 so far, Captain America: The Winter Soldier, has arrived on DVD, Blu-Ray and digital download. And let us be the first to tell you, it is even better watching it the second time around. And with those bonus features and audio commentary tracks, the entire experience of watching Chris Evans in action is all the more enjoyable.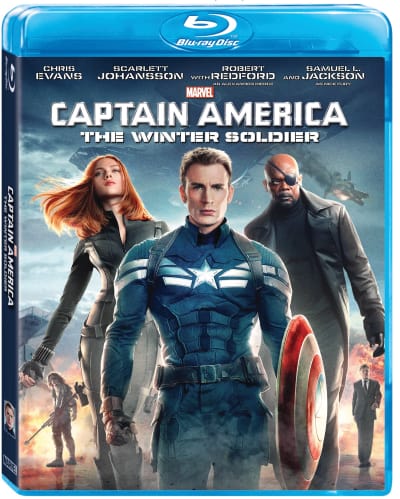 That first Captain America: The Winter Soldier trailer let audiences know immediately that this film from Anthony and Joe Russo would pick up right after The Avengers ended. Scarlett Johansson's Black Widow is with Cap and he's working at S.H.I.E.L.D. in Washington, D.C. under the tutelage of Samuel L. Jackson's Nick Fury.
Evans' Cap is still adjusting to being abruptly introduced to the 21st century, and when he meets Anthony Mackie's Sam Wilson on the Mall in D.C., he opens up a notebook in which he is filling in things he needs to check out to further understand our (mostly pop) culture.
But Evans plays Cap now as firm in his ability to be in the present and The Winter Soldier is less a fish out of water story and more of an old-fashioned political corruption/conspiracy thriller and that is why it is utterly brilliant -- as we reported in our theatrical Captain America: The Winter Soldier review. 
Captain America is drawn to the past due to the presence of a new foe, Sebastian Stan as The Winter Soldier. And yes, he sure looks an awful lot like Steve Rogers' World War II buddy Bucky Barnes.
The level of power of these Marvel films has only increased with time and proof of that is the appearance of Oscar-winning legend Robert Redford in a pivotal role. And hearing the Russo brothers discuss that fact in one of the more stand-out features -- their audio commentary -- for the Captain America: The Winter Soldier DVD and Blu-Ray is just the tip of the iceberg of insight that they provide.
If you've seen the film already, start right off the bat watching the film again with their audio commentary because it is one of the better ones we've witnessed in some time. And if you haven't seen Captain America: The Winter Soldier yet, then when you watch it a second time, listen to what the directors have to say, as it will only further enhance the viewing experience.
Speaking of bonus features, there are a slew of them and we have to highlight a few of our favorites.
On the Set with Anthony Mackie: Cut the Check! is an utter delight. Mackie could not have been a better choice to play Wilson, aka Falcon, and his filming journey is chronicled in this bonus feature.
We've loved Mackie's work for years and watching him work in the Marvel world is some serious success that has been a long time coming for the actor. And yes, his humor is ever present -- proved by the title of this featurette. Every time he gets a take right, he says, "Cut the check!" We actually kind of wish that Falcon was in Avengers: Age of Ultron, but we'll settle for a repeat appearance in Captain America 3.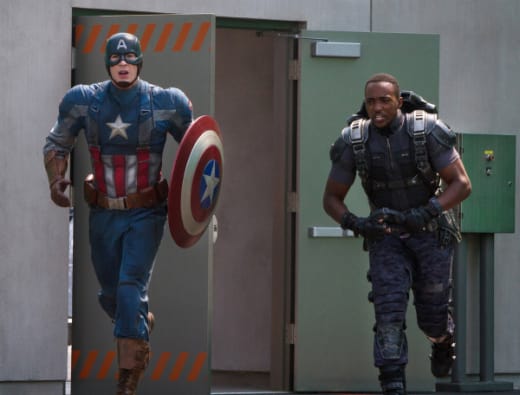 The featurette On The Front Line: An Inside Look at Captain America's Battlegrounds shows another reason why this film is truly special. How much the Russo brothers used practical effects instead of CG is astounding and explains why the film has a real world feel that can often be missing from superhero movies. And who doesn't like a making-of doc that allows the viewer to glean information about the making of the movie that cannot be found anywhere else!
Given that this is such a serious film with a serious larger message about government and corruption that feels extremely timely, the ten-minute blooper reel is an absolute laugh riot. It's great to see our favorite stars (like Evans, Mackie and Johansson) crack themselves up at their own mistakes.
And as we mentioned previously that notebook that Rogers keeps that cues him into what types of popular culture icons he needs to experience to better fit into the 21st century, that's explored further in the featurette Steve Rogers' Notebook. What's utterly fascinating about this is how the list was changed depending on which country the film was to be released in.
It's just that kind of attention to detail and powerful forward thinking that makes Captain America: The Winter Soldier one of the best Marvel movies… ever.
Watch Captain America: The Winter Soldier online and don't miss our favorite Captain America: The Winter Soldier quotes!