Chef DVD Review: Jon Favreau Cooks Up Something Delicious
by Joel D Amos at . Updated at . Comments
Jon Favreau's passion project, Chef, has landed on DVD, Blu-Ray and digital download and if you missed it in theaters, this is a don't miss home video release. And if you were fortunate to witness Chef in theaters, this is one you want to own and watch over and over again. Its charms know no end.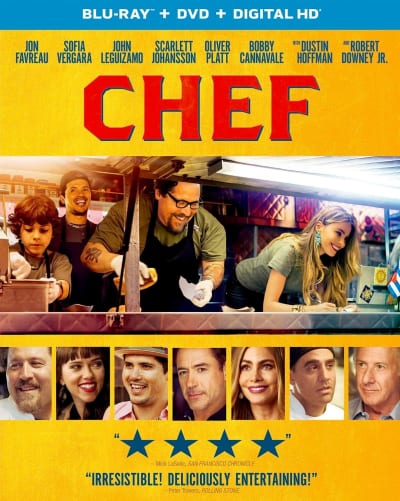 The feel of the film is merely teased in the Chef trailer. Favreau plays an elite chef who winds up in an online war of words with a food critic (Oliver Platt) that costs him his job -- thanks to his demanding restaurant owner (Dustin Hoffman).
He is truly gifted, but goes about the feud completely wrong. Well, we have our opinions on that, but you have to see it and decide for yourself!
There are numerous levels to the film that Favreau wrote, directed and stars in that charm the heart as well as tantalize the taste buds. Sofia Vergara plays Favreau's ex-wife and they have a young son together whose relationship is good, but not great.
His son has wanted more from his father, and now that he's lost his job -- well, that provides for some great bonding time as Favreau purchases a run down truck with the wild idea to create a food truck that will cross the country building buzz as they go.
They're joined on their cross country adventure by Favreau's fancy restaurant sous chef (John Leguizamo) and collectively, watching this story unfold with such gifted actors is truly as much a joy as the best meal you've ever tasted.
The cast is top notch (even Favreau's Iron Man 2 star Scarlett Johansson is in it, as is Iron Man himself, Robert Downey, Jr.) and Favreau's writing is efficient, emotional and oftentimes hilarious. The film will warm your soul and leave you wanting more. It may be the surprise hit of the year, and we hope that it is a surprise Oscar nominee come awards season as well.
The highlight of the sparse bonus features is the audio commentary by Favreau and Roy Choi, who is the film's co-producer, and also best known as a food truck pioneer. Their insight is utterly priceless and we cannot recommend enough sampling their flavor that only enhances the delicious stew that is Favreau's movie.
Although we would have liked some making-of featurettes from the film on the home video release, or even a separate doc on the burgeoning food truck industry, there is more than enough in the movie itself to satisfy us and have us hitting play again and again when the credits close.
Watch Chef online right now and be sure to taste the cinematic awesomeness.