Dolphin Tale 2 Giveaway: Win Our Movie-Themed Prize Pack!
by Joel D Amos at . Updated at . Comments
Inspired by the true story that is Dolphin Tale? Then you will want to be front and center when Dolphin Tale 2 lands in theaters September 12.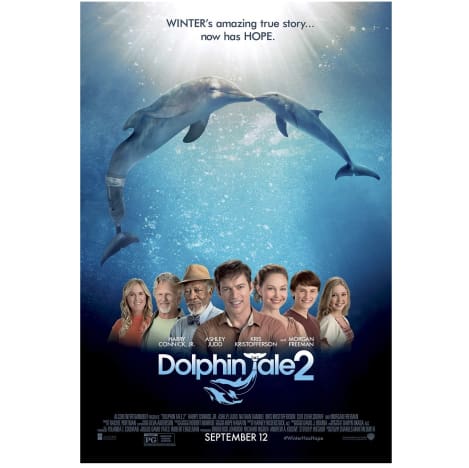 As shown in the Dolphin Tale 2 trailer, the astounding true tale (pun intended!) follows what happens when Winter (the dolphin saved in the first film) gets a friend who also is in dire need of help from the Florida aquarium.
To celebrate the arrival of the film, we are presenting one incredible Dolphin Tale 2 prize pack. Back from the first movie is Ashley Judd, Harry Connick Jr., Morgan Freeman and Kris Kristofferson. 

Our Dolphin Tale 2 grand prize winner will receive:
Giant 3' 4" Dolphin Plush
Youth Wet Effect Guard Shirt
White & Blue Tote
Pigment Dyed Twill Washed Bucket Hat
Clear Pencil Case
Yellow Youth Tee
Beach Towel
Glowing Tumbler
Sunglasses
Coffee Beanery Coffee Basket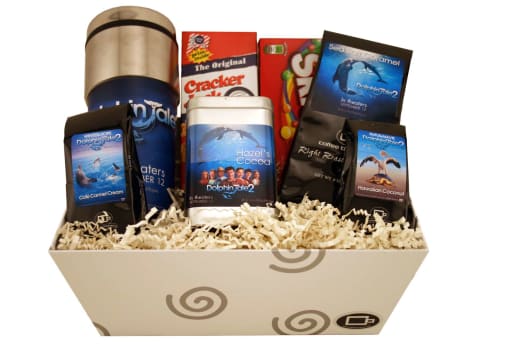 Enter for your chance to win a
Coffee Beanery
movie-themed gift basket featuring our specialty coffees and hot chocolate!
Dolphin Tale 2 branded FLYGRIP Phone Holders

Flygrip
is a revolutionary device that attaches to any smartphone allowing easy one handed use!!
Use the widget below to enter on Facebook or Twitter. There are three unique ways to enter, and by entering all three ways you can increase your chance at winning!
Our prize winner will be selected at random on September 16. Good luck!
Don't forget to visit the Dolphin Tale 2 official site for more on the new film. And to further stay informed on all things Dolphin Tale 2, check out the Dolphin Tale 2 Facebook page, the Dolphin Tale 2 Twitter page and follow @wbpictures on Twitter.
Be sure to enter now as the sweepstakes runs through September 16.
You can also sign up for Warner Bros. special offers, be the first to know movie news, updates and more at:
Dolphin Tale 2 Synopsis:
Warner Bros. Pictures and Alcon Entertainment's Dolphin Tale 2 continues the story of the brave dolphin Winter, whose miraculous rescue and rehabilitation -- thanks to the invention of a groundbreaking prosthetic tail -- made her a symbol of perseverance to people around the world and inspired the 2011 family hit movie Dolphin Tale.
The film reunites the entire main cast, including Harry Connick, Jr., Ashley Judd, Nathan Gamble, Kris Kristofferson, Cozi Zuehlsdorff, Austin Stowell, Austin Highsmith and Oscar winner Morgan Freeman (Million Dollar Baby).  The remarkable dolphin Winter returns as herself, joined by a new dolphin named Hope. Charles Martin Smith, who directed Dolphin Tale, wrote and directed the sequel.
Several years have passed since young Sawyer Nelson and the dedicated team at the Clearwater Marine Aquarium (CMA), headed by Dr. Clay Haskett, rescued Winter, a young dolphin who lost her tail after being entangled in a crab trap. With the help of Dr. Cameron McCarthy, who developed a unique prosthetic tail for Winter, they saved her life against all odds. In turn, she helped save the Aquarium -- as people came from far and wide to see the courageous dolphin firsthand, enabling CMA to expand their mission to Rescue, Rehabilitate and, when possible, Release injured animals.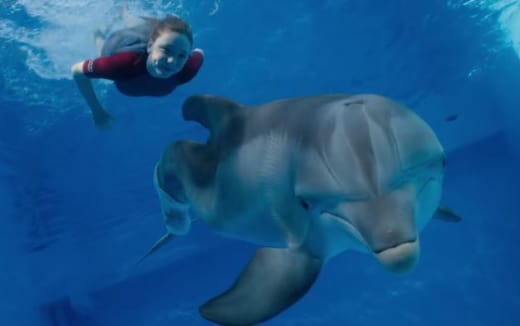 Yet their fight is not over. Winter's surrogate mother, the elderly dolphin Panama, passes away, leaving Winter alone and grieving, unwilling to engage with anyone, even her best friend, Sawyer. However, the loss of Panama may have even greater repercussions for CMA.  The USDA warns Clay they will have to move Winter from the Aquarium because regulations require these social creatures to be paired.  If they don't find a female companion for her -- one that she accepts -- CMA will lose their beloved Winter.
But as time runs out, there may still be Hope…
Dolphin Tale 2 stars Harry Connick, Jr. as Dr. Clay Haskett; Ashley Judd as Sawyer's mom, Lorraine; Nathan Gamble as Sawyer Nelson; Kris Kristofferson as Clay's father, Reed Haskett; Cozi Zuehlsdorff as Clay's daughter, Hazel; Austin Stowell as Sawyer's cousin, Kyle; Austin Highsmith as Winter's lead trainer, Phoebe; and Morgan Freeman as Dr. Cameron McCarthy. Champion surfer Bethany Hamilton, who herself has been an example of courage, joins the ensemble, playing herself in the film.
Oscar nominees Andrew A. Kosove and Broderick Johnson (The Blind Side) produced the film, together with Richard Ingber, who brought the original project to the Company, and Steven P. Wegner. David Yates and Robert Engelman served as executive producers.
The behind-the-scenes creative team included director of photography Daryn Okada, production designer David J. Bomba, editor Harvey Rosenstock, and costume designer Hope Hanafin. The score was composed by Oscar winner Rachel Portman (Emma).
Dolphin Tale 2 was filmed at the Clearwater Marine Aquarium, the non-profit rescue and rehabilitation facility that Winter and now Hope call home, as well as the surrounding areas of Tampa, Clearwater and St. Petersburg, Florida.
Alcon Entertainment presents Dolphin Tale 2, distributed by Warner Bros. Pictures, a Warner Bros. Entertainment company.
This film has been rated PG for some mild thematic elements.
Dolphin Tale 2 Prize Pack Release and Indemnification:
By entering the sweepstakes, entrants release and hold harmless Warner Bros. Entertainment Inc. and each of its respective parents, divisions, affiliates, subsidiaries, agents and advertising agencies (collectively,  "WBEI" ) from and against any and all losses, damages, rights, claims, and actions of any kind arising in whole or in part, directly or indirectly, from the sweepstakes or participation in any sweepstakes-related activity (including without limitation the removal from the site of, or discontinuation of access to, any materials), or resulting directly or indirectly, from acceptance, possession, use, or misuse of any prize awarded in connection with the sweepstakes, including without limitation personal injury, death, and/or property damage, as well as claims based on publicity rights, defamation, and/or invasion of privacy.
Limitation of liability:
In no event will the WBEI be responsible or liable for any damages or losses of any kind, including without limitation direct, indirect, incidental, consequential, or punitive damages, arising out of any access to and/or use of the sweepstakes site, the downloading from and/or printing material downloaded from the sweepstakes site, the removal from the sweepstakes site of, or discontinuation of access to, any materials, or the acceptance, possession, use, or misuse of, or any harm resulting from the acceptance, possession, use or misuse of, or participation in, any prize awarded in connection with the sweepstakes. Without limiting the foregoing, the sweepstakes, all prizes, and all materials provided on or through the site "are provided as is" without warranty of any kind, either express or implied, including without limitation the implied warranties of merchantability, fitness for a particular purpose, and non-infringement.

Be sure to check out how we first discovered this Tale and watch Dolphin Tale online and enjoy our Dolphin Tale 2 photos in our slideshow below.