When we met the star of Draft Day for our Kevin Costner exclusive interview, he told us that he always wanted to do a football movie. Unfortunately, there was never the right script for him to be a player, but he sure found one for playing an NFL GM in Draft Day, out now on DVD, Blu-Ray and digital download.
As teased in the Draft Day trailer, Costner is the GM for the Cleveland Browns, and yes, it is Draft Day.
The fans of the Browns have their opinions as to who he should choose with their first round pick. The new coach (Denis Leary, brilliant) has a clear opinion. And, believe it or not, so does Costner -- but he still just doesn't know.
All of this is playing out as the clock is ticking on Cleveland's chance to pick.
There are a multitude of storylines going on here, and that is why Draft Day is so much more than a football story. It is a tale about family, about love (Jennifer Garner is the team lawyer and a romantic interest), ego (he and Frank Langella, team owner, continually clash), and yes -- thankfully -- football and the passion for the game that millions have for it.
As our theatrical Draft Day review stated, this is a fun ride, and in the last 30 minutes -- without giving anything away -- Costner puts on a clinic and the pace is as riveting as the best thrillers out there.
Capturing that thriller essence is the bonus feature On The Clock: The Making of Draft Day, which looks at how a relatively simple story about drafting a football player could have a feel similar to a police bomb squad trying to diffuse an explosion while the clock ticks. It is impressive how director Ivan Reitman (Ghostbusters) has crafted this flick, and watching him at work with his cast and crew in this bonus feature is pure joy.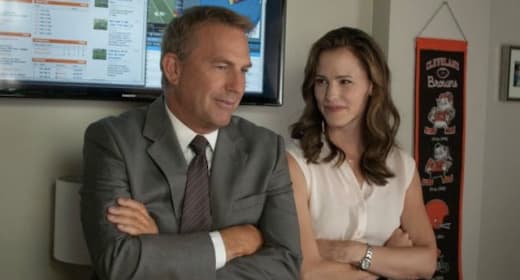 The Welcome to Primetime featurette also got our attention in that it showed how, with the NFL's help (one of the only movies to get the league's stamp of approval to this extent), the NFL draft has become more of an event each year. It is so much more than determining the future of any given city's franchise. The draft is a show all unto itself, and Draft Day captures that impeccably.
There's a Draft Day audio commentary that is fascinating from writers Rajiv Joseph and Scott Rothman that take us inside the extensive research that has this film breathing with a real life pulse.
But, we have to say, we would have wished to have an audio commentary track from Reitman especially, but even Costner to have him talk about the sports movie and what sets this one apart for him. But, alas, it is not to be.
Watch Draft Day online now and see why this film will clearly have you more than ready for the start of a new football season while it also is another Costner sports film that rivets.