When Paul Walker died, everyone involved in the Fast and Furious franchise described it as a loss to the Fast & Furious family.
And we're not just talking about the cast that includes Vin Diesel, Michelle Rodriguez, Tyrese Gibson, Ludacris, Jordana Brewster and now Dwayne Johnson. It is truly every single person that has enjoyed a Fast & Furious movie, and it appears that they are a mighty force.
News arrives today that the Fast & Furious Facebook page has gone over 50 million followers -- 51.2 million to be exact -- and the franchise celebrated by posting the following photo.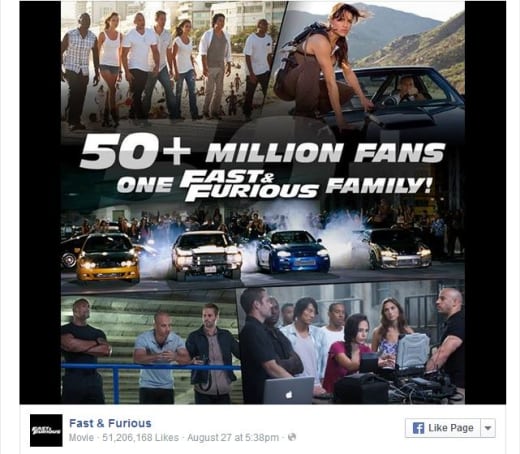 As we get ready for the arrival of the James Wan-directed Fast and Furious 7, there's a whole lot of kin out there eager for the April 3, 2015 release and Movie Fanatic is one!
Watch Fast and Furious 6 online and see where we just were so you can see where we're going.
New to the family for Fast and Furious 7 will be Jason Statham (as our villain), Djimon Hounsou and Iggy Azaela -- and look for the return of Lucas Black!