Ghostbusters: Dan Aykroyd Compares Franchise to Star Wars & Marvel
by Joel D Amos at . Updated at . Comments
Dan Aykroyd is busy writing Ghostbusters 3, or so we have been told. And we've also been informed that that film is likely to be a reboot of sorts with an all-female Ghostbusters cast.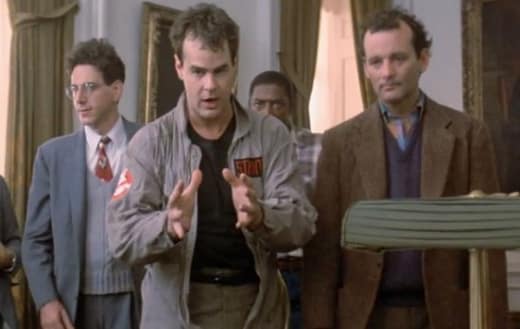 In a recent interview with THR, Aykroyd explained his vision for his beloved franchise and he even compares it to some mighty huge ones and thinks that Ghostbusters can match those in the coming years as he is clearly thinking about a world that has much more than just Ghostbusters 3.
"It's beyond just another sequel, a prequel, another TV show. I'm thinking, what does the whole brand mean to Sony? What does Pixar and Star Wars mean to Disney? What does Marvel mean to Fox?" he said.
Aykroyd seems to want to take Ghostbusters into the future as much as having a desire to explore its past. He said it's "not just another movie or another TV show, but what's the totality of it? The whole mythology from the beginning of their lives, the end of their lives. Ghostbusters at nine years old, Ghostbusters in high school."
Sounds like someone has a lot of Ghostbusters ideas brewing in his brain! But, there is one thing that Aykroyd is clear about and that's the technology of the Ghostbusters, and yes, he even brings Marvel into it again.
"It's up on blocks, it needs new electronics, new everything. That's what we have to do. The whole vehicle of Ghostbusters has to be rebuilt. That's the ambitious thinking that's going on now," Aykroyd said.
"Taking on the model of Marvel where we take all of the elements that are in this movie and we put them out there as different ideas."
So, in the short term, what about that Ghostbusters 3 flick that is supposedly starting shooting soon? "We need to write it," he admitted.
While Aykroyd gets busy on that, watch Ghostbusters online.