Ghostbusters I and II Blu-Ray Review: Get Slimed in High Definition
by Joel D Amos at . Updated at . Comments
The Ghostbusters 30th Anniversary Edition has landed on Blu-ray and also contains the Ghostbusters 2 25th Anniversary Edition -- which is making its Blu-ray debut. For fans of the classic films, this is truly a treat.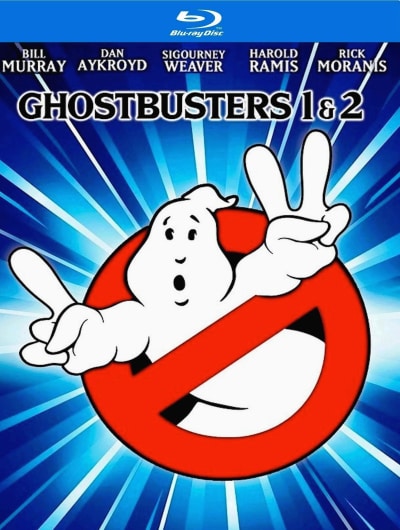 We received the Blu-Ray Digibook that features both films in a snazzy and astounding restored and remastered version of the film from the theatrical 4K upgrade.
Besides having those iconic and frequently repeated Ghostbusters quotes, the first film -- released in 1984 -- was a revolutionary tale that combined elements of sci-fi, action and comedy. It stars Bill Murray, Dan Aykroyd (who is busy trying to get Ghostbusters 3 made), Harold Ramis and Ernie Hudson and was directed by Ivan Reitman. The film was an astounding success and sat atop the box office charts for months.
The three supernaturally-centric scientists had been booted from their university and famously started their own Ghostbusting business to hilarious and sometimes scary results. We adore Ghostbusters 2, but there is no question that Ghostbusters is more of a classic. The way it introduced those main characters, as well as supporting players such as Hudson, Sigourney Weaver and Rick Moranis was nothing short of iconic.
Among the bonus features that are utterly priceless is Who You Gonna Call: A Ghostbusters Retrospective – Roundtable Discussion with Reitman and Aykroyd. That featurette gives unparalleled insight into the film(s) that changed everything. And given that it was Aykroyd that came up with the idea and Reitman that honed it into the classic we all know in love -- this roundtable chat is nothing short of a must-see.
The Ghostbusters Blu-Ray also contains a series of posters that have never been in one collection, as well as the iconic Ghostbusters music video by Ray Parker, Jr.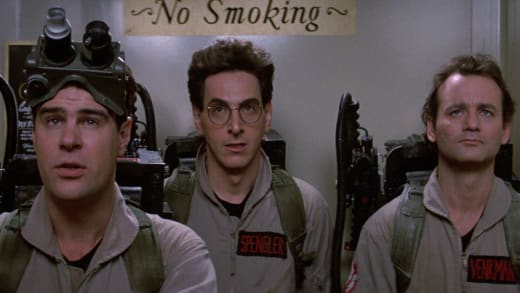 Previously released content is still there, and we are partial to the Slimer Mode – Picture in Picture and Trivia Track, the 10 deleted scenes, the Ecto-1: Resurrecting the Classic Car featurette and in that vein, the Ghostbusters Garage: Ecto-1 Gallery Storyboard Comparisons that show how the famous car came to drive the streets of New York.
And we would be remiss not to mention the previously released commentary track that not only features Reitman, producer Joe Medjuck, but the late Harold Ramis. We miss him even more hearing him talk about his beloved Ghostbusters.
The Ghostbusters 2 Blu-Ray contains a fabulous new featurette, Time Is But A Window: Ghostbusters II and Beyond, which is truly the second part of the Roundtable Discussion with Reitman and Aykroyd. The sequel's first time on Blu-Ray also includes never-before-seen deleted scenes and the On Our Own music video from Bobby Brown.
Watch Ghostbusters online and watch Ghostbusters 2 online to witness the magic all over again and click through our slideshow below for 30 fun facts from Ghostbusters that you probably didn't know to celebrate the film's three-decade anniversary.