Guardians of the Galaxy Keeps Rolling: Weekend Box Office Report
by Joel D Amos at . Updated at . Comments
In a weekend that saw no true new movies opening, it should hardly be a surprise that Marvel's Guardians of the Galaxy kept its spot atop the weekend box office charts.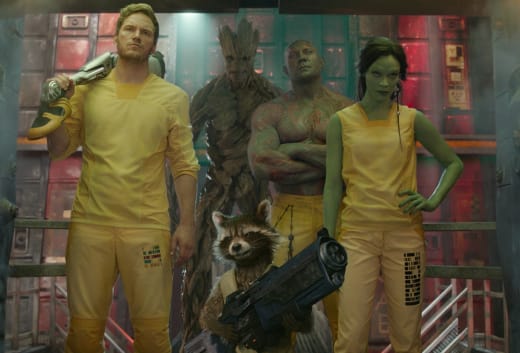 What is somewhat surprising is that this is a film that opened August 1 and in today's in and out in a few weeks movie world, what Chris Pratt and his Guardians of the Galaxy are doing is quite impressive. In fact, this is the fourth week that the film has been the box office champ, adding $10.2 million to its total haul of $294.6 million.
Second place belonged to the same movie that has held that position for the last several weeks, Teenage Mutant Ninja Turtles. The Paramount film earned $6.5 million to bring its total to $174.6 million.
The third position also stayed the same as it did last week with the YA novel turned big screen romance, If I Stay -- starring Chloe Grace Moretz -- making $5.8 million. Fourth found Let's Be Cops and its $5.4 million, and closing out the top five was The November Man. The Pierce Brosnan spy flick sold $4.2 million in tickets.
Box office top 10:
1. Guardians of the Galaxy, $10.2 million
2. Teenage Mutant Ninja Turtles, $6.5 million
3. If I Stay, $5.8 million
4. Let's Be Cops, $5.4 million
5. The November Man, $4.2 million
6. As Above/So Below, $3.72 million
7. When the Game Stands Tall, $3.7 million
8. The Giver, $3.6 million
9. The Hundred-Foot Journey, $3.2 million
10. Lucy, $1.9 million