Hercules DVD Release Date & Bonus Features: Revealed!
by Joel D Amos at . Updated at . Comments
We always thought the casting of Dwayne Johnson as Hercules was nothing short of perfection. Now a wider audience can see for themselves as Paramount has announced that Hercules is coming home on DVD and Blu-Ray on November 4.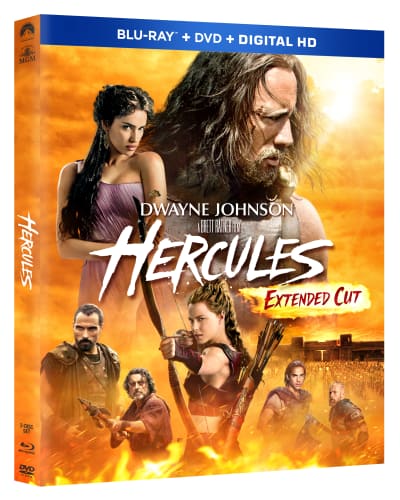 Those who want to see it early can when Hercules lands on Digital HD on October 21.  
As teased in that Hercules trailer, the story follows Johnson as an older, wiser Hercules who has "retired" to a life of a family man. The only thing is the gods are not too happy about that and, through a series of events, compel him back into action as the hero he is destined to always be.
Hercules also stars one of our faves in Ian McShane, as well as Joseph Fiennes, Rufus Sewell and John Hurt.
When it comes to the bonus features on the Hercules DVD and Blu-Ray, Paramount announced the following... 
Hercules Blu-ray Contains:
Commentary by director Brett Ratner and producer Beau Flynn
Extended cut in high definition
Brett Ratner and Dwayne Johnson: An Introduction
Hercules and his Mercenaries -- Delve into the story behind the team assembled by Hercules for his perilous missions and the skills required of them.
Weapons! -- Exploration of the weapons created for the spectacular action scenes, including training with the actors.
The Bessi Battle -- Discover how one of the major action sequences of the film was created with the filmmakers, actors, stunt team, make-up effects and more.
The Effects of Hercules -- A behind-the-scenes look at the film's spectacular visual effects.