The world is truly a less funny place with the news that Joan Rivers died today, and the loss of Robin Williams a few weeks ago.
Hollywood is stunned at Rivers' passing and took to the internet to let the world know how much she will be missed.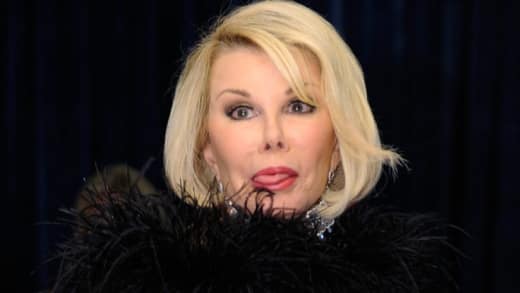 We've gathered a few of the reactions from some of the biggest names in comedy and in Hollywood in general. And two things immediately become clear: She was adored and and we will likely never see anyone like her again.
Anna Kendrick: RIP Joan Rivers. Being publicly told that my dress is hideous will never feel quite as awesome. You will be truly missed.
Whoopi Goldberg: My dear friend, Joan Rivers, has passed away. Once again, I can only quote Billy Crystal..."There are no words." Bon voyage, Joan.
Sarah Silverman: My heart is torn in half. She wasn't done.
Queen Latifah: Joan Rivers!!! Oh Noooo!!!
Elizabeth Banks: I loved Joan Rivers. A trailblazing funny lady. Have fun up there.
Seth Rogen: Terrible news about Joan Rivers. I was lucky enough to meet her a few months ago. She was still as comedically relevant as anyone.
Don Rickles: Our dear Joan is gone. Knowing her, working with he and enjoying the fun times of life with her was special. She will always be in our hearts.  She was a good friend to Barbara and I. Melissa, be strong and take care of your son Cooper.  Joan…we will miss you.
Rob Schneider: #JoanRivers was thee trailblazer for ALL WOMEN COMICS WHO FOLLOWED! She proved a woman could be just as outrageous and as funny as the guys!
Samul L. Jackson: Love Her or Hate Her, we're gonna Miss JOAN RIVERS! I always Respected her go for broke humor. One of a kind. R.I.P.
Ellen DeGeneres: Joan Rivers will always be a pioneer. She paved the way for a lot of comedians. I'm very sad she's gone. 
Bette Midler: Joan Rivers has died. What a sad ending to a brilliant and tragi-comic life; one of the bravest, and funniest of all.
Alec Baldwin: Very sad to learn about Joan Rivers, a pioneer for women in comedy.
Jane Lynch: @Joan_Rivers Godspeed my sweet. Thanks for all the laughs. Thanks for all the love. I miss you already.
Ricky Gervais: RIP the mighty Joan Rivers. Funny and fearless. Truly one of a kind.
Watch Joan Rivers: A Piece of Work online and truly witness the magic of a once-in-a-lifetime comic.