Mission Impossible 5 director Christopher McQuarrie has all his ducks in a row as filming commences on the highly anticipated sequel to Mission Impossible: Ghost Protocol.
McQuarrie was so excited about that fact, that he took to his social media pages and posted the following photo of his cast -- Jeremy Renner, Tom Cruise, Simon Pegg and Ving Rhames (who's back!)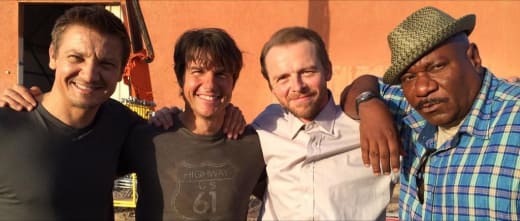 We reported just last week that Mission Impossible 5 has found its villain in Sean Harris and given the success and how incredible Mission Impossible: Ghost Protocol was, we cannot wait for the fifth Mission to land December 25, 2015.
While we wait for that sure-to-be thriller, watch Mission Impossible: Ghost Protocol online.
Oh, and not pictured in the above photo is another cast member we're excited about… Alec Baldwin!