Neighbors DVD Review: Funny Frat vs. Family Flick Comes Home
by Joel D Amos at . Updated at . Comments
Zac Efron and Seth Rogen proved to be a surprisingly effective comedy dream team in the comedy Neighbors. But, as we stated in our theatrical Neighbors review, it is Rose Byrne as Rogen's wife who steals the laughs in many scenes! You can see that for yourself now that Neighbors has arrived on DVD, Blu-Ray and digital download.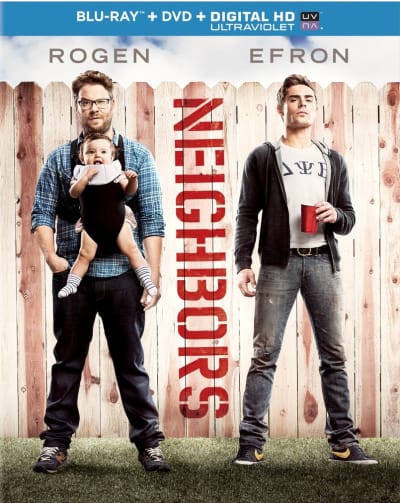 Nicholas Stoller (Get Him to the Greek, Forgetting Sarah Marshall) helms this comedy that features Efron's fraternity (which includes Christopher Mintz-Plasse and the always awesome Dave Franco) moving next door to Rogen and Byrne's house that they share with their new baby girl. As any parent, and most human beings for that matter, can attest to, living next to a fraternity might just be this side of hell.
As teased in the Neighbors trailer, they get off on the right foot, but that does not last long. After that, it begins a (comedic, for the audience) war of wills that is oftentimes funny and, by the end of the film, surprisingly insightful about life as a whole.
A comedy such as Neighbors is always a fun one to have on DVD and Blu-Ray beyond just the ability to enjoy those Neighbors quotes over and over.
With all the bonus features, look for the laughs to greatly expand from the film itself and this Efron-Rogen comedy is no different.
We have to start with the alternative opening, which reveals how the boys of Delta Psi Beta arrived next door to Rogen and Byrne in the first place. It is beyond hysterical and truly sets the tone for the film. We're actually not quite sure why Stoller axed the scene, other than perhaps to keep the fraternity hijinx at bay until he introduced us to the bliss that is the married couple's life.
The deleted and alternative scenes are a must-see. Rarely are these worth your time as there was a reason in the first place that the filmmaker cut them. In this case, it was an embarrassment of riches for Stoller as he had to keep his film under two hours!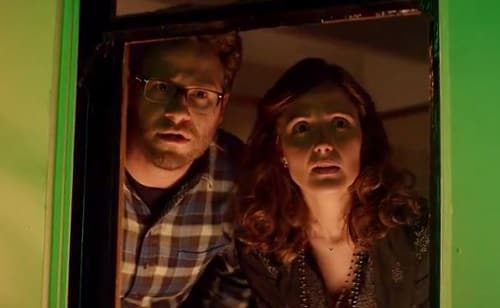 Several of the deleted scenes are as funny (and even insightful) as any in Neighbors. And the alternate scenes are in that same vein. Stoller had to yell cut at some point, so we see why they were shortened, but having the DVD, Blu-Ray and digital download is a true treat that we can witness these scenes in their entirety.
The bonus feature On the Set With… Dave Franco first off, features an impeccable choice to lead the tour. Rogen, Byrne and Efron might have seemed like a logical choice, but there is an everyman vibe to Franco that has us feeling like it's a first person visit to the comedy set from someone we know and have known for some time. And be sure to watch the entire featurette as Mintz-Plasse stops by to show Franco (and us) his special prop that is one of the film's funnier moments.
And the gag reel, which is standard for comedies, is fascinating with the Neighbors home video release in that it is not limited to the comedy vet Rogen or the surprisingly funny Efron and Byrne. The entire cast gets in on the gag reel action and it only further shows what a talent Stoller is to get a collective of comedy from his entire ensemble and not just the ones whose names are on the marquee.
Don't miss the bonus featurette Line-O-Rama, which allows the viewer to see improvised extended scenes for some of the best hilarious moments in the entire movie. It is user friendly and incredibly interactive.
The bonus featurette An Unlikely Pair explores what we were talking about earlier in that Rogen and Efron are a perfect comedic duo and that is quite surprising. Watching the two work in this documentary short is a lesson in improv, dramatic and comedic acting from two pros who upped their game for the sake of making the best movie possible. 
Watch Neighbors online now and witness one of our 17 best movies of summer -- right now!