Neighbors Exclusive Giveaway: Win the Comedy Smash on Blu-Ray!
by Joel D Amos at . Updated at . Comments
Neighbors caught a lot of people by surprise when it arrived this past summer. And now that it's coming to DVD and Blu-Ray on September 23, even more audiences can relish in the joy that is Seth Rogen and Rose Byrne going to war with Zac Efron and his frat buddies.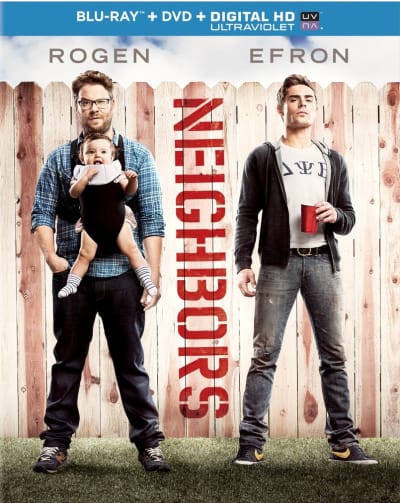 We're so excited about the arrival of the Neighbors home video that we have a Blu-Ray combo pack copy for one lucky Movie Fanatic reader!
As we stated in our theatrical Neighbors review, this is a comedy that is much more than its Frat vs. Family tagline.
This thing (surprisingly) goes deeper and shows off the comedic and dramatic talents of Efron, and the biggest joy of all is watching Byrne completely steal the movie comedically from her more known for their comedy co-stars.
Neighbors made our Top 17 summer movies of 2014 and now's your chance to bring it home for your very own collection.
Use the widget below to enter on Facebook or Twitter. There are three unique ways to enter, and by entering all three ways you can increase your chance at winning!
And be sure to check out our favorite Neighbors quotes in the slideshow below!