Remember our exclusive William Shatner interview where he called J.J. Abrams a pig for collecting all the sci-fi franchises?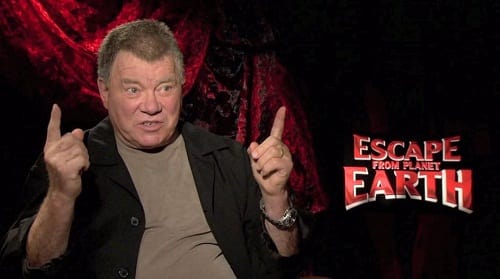 Well, Abrams is clearly busy with Star Wars: Episode VII and won't be directing Star Trek 3.
But, Robert Orci is (and he's writing the script) and it appears that he not only wants to bring back Leonard Nimoy as Spock, but also Shatner as Captain Kirk!
There's one scene, supposedly, in Orci's script that features Shatner and Nimoy. Perhaps it's a flashback, or flash forward as this case may be?
Who knows, but the question now is will Shatner say "yes."
We, honestly, think there is no way he says no!
The two Star Trek legends haven't appeared together onscreen in those roles since 1991 when they starred in Star Trek VI: The Undiscovered Country.
Whether that scene ends up in the final cut is a whole nother story as Orci is famously in the early stages of his follow-up to Abrams' Star Trek Into Darkness.
Watch Star Trek online and watch Star Trek Into Darkness online to get ready for Star Trek 3. As soon as we have any more details on that flick's release date or plot points, we will share!