Star Wars Episode VII Set Photo: Millennium Falcon Under Construction!
by Joel D Amos at . Updated at . Comments
It was probably supposed to be a secret, but when Harrison Ford broke his leg on a trap door on the Millennium Falcon, we knew that the iconic spaceship would be in Star Wars: Episode VII. Now, thanks to an industrious pilot in England, we have our first glimpse at Han Solo's beloved "bucket of bolts."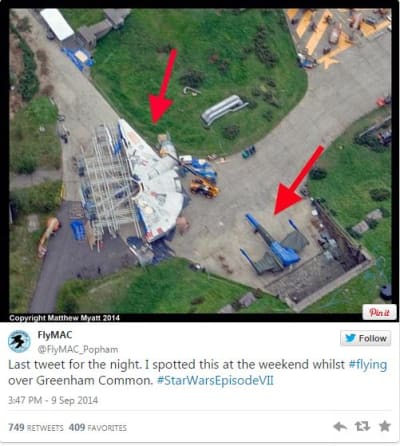 The Star Wars: Episode VII production is back on now that Ford has recovered from his Millennium Falcon injury and that means that Ford, Carrie Fisher, Mark Hamill and the rest of the Star Wars: Episode VII cast is back in action -- more than hitting their mark for the December 18, 2015 release date.
And might we just say that we love the idea that J.J. Abrams is using practical sets and not CG only to create some of our favorite and pop culture's most iconic items from the Star Wars universe.
Check out 9 things we want to see in Star Wars: Episode VII in our slideshow below!