Star Wars Episode VII Video: Millennium Falcon Reveals Batmobile?
by Joel D Amos at . Updated at . Comments
The back and forth games between J.J. Abrams and Zack Snyder continue and we think that Abrams has taken the prize for "the best ever."
Let's back up a bit. 
When illegal photos of the Batmobile for Batman v Superman: Dawn of Justice leaked, Snyder had a field day saying that the vehicle was stolen by his friends over at Star Wars: Episode VII and even posted the following photo on his social media pages.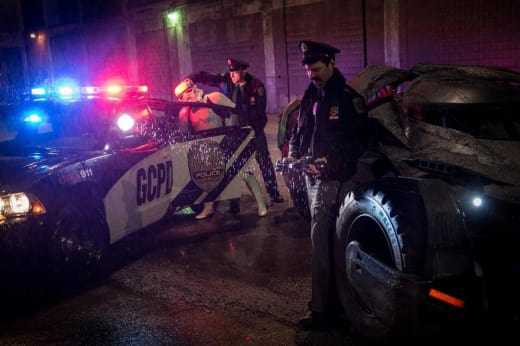 Abrams has followed suit, and honestly upped the ante and also in the process, given us a great close-up view of his Millennium Falcon!
Check out his video, and what's that on the undercarriage of Han Solo's "bucket of bolts?" Yup… it's the Batmobile.
You know we're huge Star Wars fans in that our takeaway from the above video isn't necessarily the good-natured joking that is going back and forth between the two productions.
It's that we have a close-up view of the Millennium Falcon and are truly excited for how Abrams is using practical sets instead of computer graphics.
I mean, his Falcon is amazing! Look at that thing!
Star Wars: Episode VII lands December 18, 2015 and Batman v Superman: Dawn of Justice arrives in March of 2016.
Here are 9 things we want from Star Wars: Episode VII!