The words fans of those Super Troopers quotes have been waiting for since 2001 have been said by the film's star and director, Jay Chandrasekhar. "Super Troopers 2 is looking very likely," he said in a Reddit-AMA conversation. "We'll have an update in a couple of months."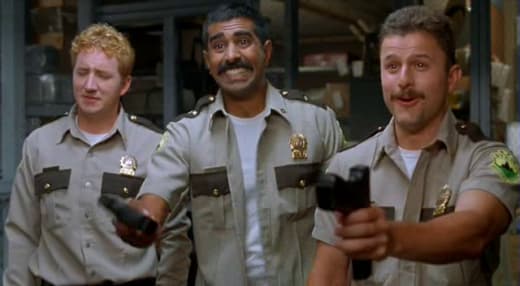 The "update" he speaks of is because it's likely he and the Broken Lizard comedy troupe are waiting to see what kind of Kickstarter funds they are looking at before heading back to Vermont to chronicle the next chapter of our favorite state troopers.
"Super Troopers 2 is going to do a Kickstarter," he proudly said. This reflects what he told us in our exclusive Jay Chandrasekhar interview. 
"When we get Super Troopers 2 done, we're going to tour together as a group. One of the Kickstarter prizes is going to be us coming to town, doing a show and having a private party screening with the donors."
Watch Super Troopers online and see why fans have been asking about a sequel since the film debuted over a decade ago.
We here at Movie Fanatic could not be more thrilled and truly hope this time something happens.