Ted 2 Photo: Mark Wahlberg Rides His Flash Motorcycle!
by Joel D Amos at . Updated at . Comments
Just days after we reported that Morgan Freeman is in Ted 2, we've got our first photo of Mark Wahlberg on the Seth MacFarlane set filming the sequel to the wildly successful film that gave us those unforgettable Ted quotes.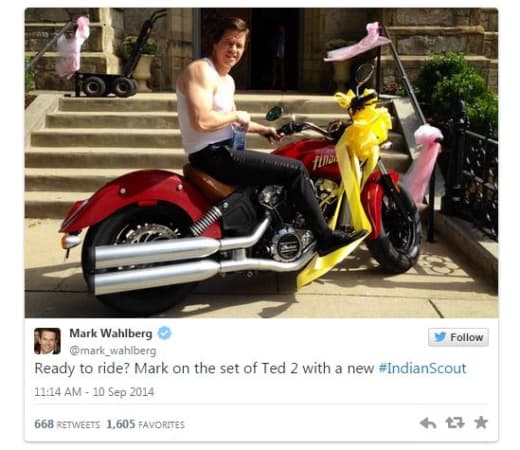 As you can see in the above photo that Wahlberg posted on his social media accounts, the actor is on a motorcycle. He's at a church, and it appears to be a wedding – but is it his? We're thinking it's Ted's!
After all, there will be a new relationship for Wahlberg's character in Ted 2 as Mila Kunis could not come back, so Amanda Seyfriend stepped into the role as Wahlberg's new girlfriend.
Another thing that struck us in the above photo is the logo on the motorcycle.
It's Flash Gordon!
As you recall when you watch Ted online, Sam Jones was a huge part of the MacFarlane movie and here's hoping he reprises his role as himself in the sequel that is set to land June 26, 2015.