The Boxtrolls Exclusive Giveaway: Win the Soundtrack Featuring Eric Idle's Theme!
by Joel D Amos at . Updated at . Comments
If you're a fan of LAIKA, you know that the score and soundtracks for their first two efforts, Coraline and ParaNorman, were nothing short of brilliant. Well, they have upped the ante even more (if you can believe it) with the soundtrack to their latest, The Boxtrolls. 
The film arrives September 26 and we are celebrating with a chance for one lucky reader to score the film's soundtrack.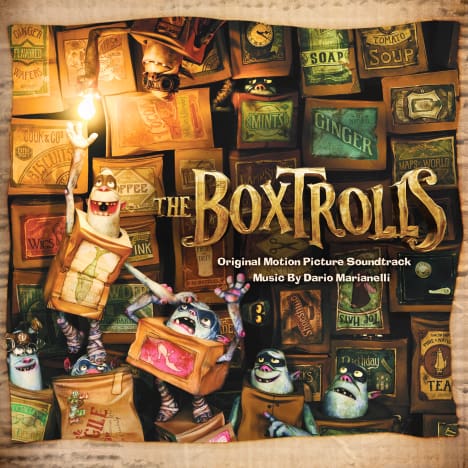 The soundtrack feature 25 stellar tracks, and the highlight has to be (for us, at least!) the Eric Idle-penned track The Boxtrolls Song, performed by Mark Orton and Loch Lomond.
It is the most wondrous of musical moments, and if you're a fan of Monty Python, you know that Idle can create humor and heart all within the music menagerie of his sonic creations.
As teased in The Boxtrolls trailer, the stop motion animated movie follows the goings-on in the community of Cheesebridge. The elite munch on cheese and discuss the items of the day, while the common folks live their lives day-to-day in this Victorian-era community.
Meanwhile, below the surface of the town, a group of Trolls live -- called Boxtrolls due to the boxes they wear when they come up to the surface. Things are all well and good for these trolls (who adopt a baby boy and raise him delightfully as one of their own), until the evil Snatcher (Ben Kingsley) decides his way to being a power elite is to round up and destroy all the Boxtrolls!
And of course, the film has the most delightful of soundtracks… and you can win it now.
Use the widget below to enter on Facebook or Twitter. There are three unique ways to enter, and by entering all three ways you can increase your chance at winning!
Watch Coraline online for a taste of the visual marvel that LAIKA creates and click through our slideshow and meet the characters of The Boxtrolls.