The Boxtrolls: Sir Ben Kingsley Dishes "Bold" Family Film
by Joel D Amos at . Updated at . Comments
Oscar winner Sir Ben Kingsley has run the gamut in his career from playing iconic historical figures (Gandhi) to the sublimely silly (The Mandarin in Iron Man 3). One thing he has not done too much of is animated work, and now with The Boxtrolls landing in theaters this week, the actor has added another must-see for audiences to his astounding resume.
"I haven't done much of this before and I was sent the most beautiful script which rang true. The honest starting point for a family film I think is a very bold, very mature move -- orphans. And they go through a struggle. They fight some very dark forces and they achieve their own light, and their own friendship and their own future," Kingsley told Movie Fanatic.
Kingsley was more than proud to be part of a family film that was truly that -- a family film.
"To present this as a family film is very refreshing. I'm sorry to say that I think family films often wipe off the top two generations of the family and say anyone taller than this table won't like this movie," he said and laughed. "It's stupid, because that's not a family film. But this is and it will have resonance for all the members of the family that see it."
The esteemed actor saw all the elements that make The Boxtrolls so universal the moment he got the script. "I say it's rooted in truth because of the way that this rang true. The way the patterns of human behavior in terms of loneliness, of longing, of care, of nurturing, of loss, of greed, of power, of indifference -- they're all there on the canvas," Kingsley said.
Then, he saw the illustration of his character, Archibald Snatcher, and he was even more thrilled about the project. "He was very different from me and therefore my voice would have to come from a different place. I'd have to find a voice that resonated from a very different place and would include all those frailties, those inadequacies, those longings, those addictions, delusions, narcissism, vanity," Kingsley said.
"The guy's a mess, held together by an absolute determination to be admitted into a club that does not want him. The worst thing you can do to that guy is to say, 'You can't come in,' because sooner or later, he'll smash the door down. And he does."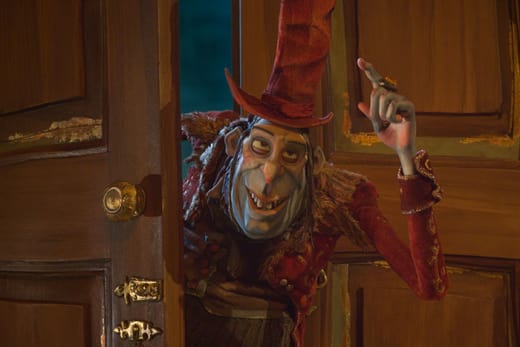 As you can see from The Boxtrolls trailer, Snatcher seeks to join the elite that make up his village's hierarchy in Cheesebridge. To get a seat at that table, he promises the leaders of this Victorian village that he will rid their community of the trolls that live below the city. Their moniker is the title of the movie, and truthfully, they are as kind as can be. In fact, they adopted a young baby years ago -- named Eggs -- and as the audience sees, he holds the key to bringing this community together. But, not if Snatcher has his way.
"He demonizes a whole tribe of people who actually have nurtured and looked after an orphan beautifully, who are creative, inventive and loving. And they create their own civilization by what upper ground throws away. They never steal," Kingsley said.
Being well versed in all things Shakespeare, Kingsley found certain parallels between Snatcher and some of The Bard's best.
"The wonderful thing about Richard III is in his first soliloquy he explains exactly how he's feeling and how he's going to behave. He tells them, 'Look, I'm mangled and wounded and I'm going to get the crown.' And Snatcher is like that in a sense, he can't take rejection," Kingsley said.
"I think there is something about the villains that I'm able to play that isn't villainous. They're vulnerable and wounded. I use that with Archibald Snatcher. Othello… he begins the play saying, 'I've just been passed over for promotion and the world will suffer.' And it does. At the end of the third act, Othello is responsible for seven deaths."
What else is fascinating is that what Snatcher craves, power in Cheesebridge, comes at a great cost. See, he's allergic to cheese and that's all that the power elite do is sit around and eat different cheeses. That was another fascinating element to this complicated character that drew the Oscar winner to one of his first forays into animation.
"I totally embraced the tragic element of his demise. His arc is doomed because of the way he's been constructed. There is that thread of tragedy, absurdity, danger, redemption, reunification -- all the threads," Kingsley said.
"I definitely warmed to the wound that will eventually consume him. Cheese is a great metaphor for success or power and power will absolutely corrupt Snatcher. And he has the choice. He thinks by being empowered that he can conquer the addiction. It happens to other people. It won't happen to me. Bang!" 
Watch Coraline online to see what kind of movie magic you're in for with The Boxtrolls and watch Iron Man 3 online to see a totally different kind of villain for Kingsley!