The Maze Runner Sequel Green Lit: The Scorch Trials Release Date Revealed
by Joel D Amos at . Comments
Hot on the heels of The Maze Runner box office win, Fox has announced that the sequel to the Dylan O'Brien-starring thriller is a go.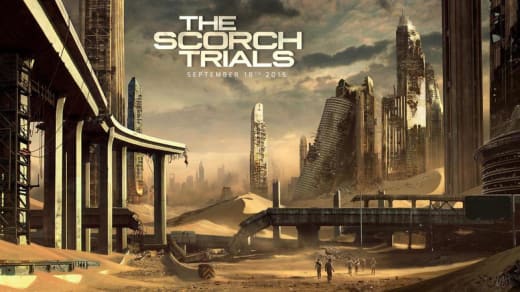 Sure, the film banked just over $32 million domestically, but if you toss in the global box office, the film based on the book by James Dashner has already made $81.5 million. And yes, that is only in a matter of days.
Fox has also announced that the sequel, The Scorch Trials, will land in theaters September 18, 2015, and the first concept art from the movie is out now (above).
Wondering how The Scorch Trials continues the adventures of Thomas (O'Brien) and his pals? Here's the synopsis for Dashner's book:
Solving the Maze was supposed to be the end.
Thomas was sure that escape from the Maze would mean freedom for him and the
Gladers. But WICKED isn't done yet. Phase Two has just begun. The Scorch.
There are no rules. There is no help. You either make it or you die.
The Gladers have two weeks to cross through the Scorch—the most burned-out section of the world. And WICKED has made sure to adjust the variables and stack the odds against them.
Friendships will be tested. Loyalties will be broken. All bets are off.
There are others now. Their survival depends on the Gladers' destruction -- and they're determined to survive.
Check out our The Maze Runner review to see what we thought of the film and check out our The Maze Runner character posters for a close-up view of the players who now have to try to make it through the Scorch Trials.