The Rover DVD Review: Robert Pattinson & Guy Pearce's Outback Adventure
by Joel D Amos at . Updated at . Comments
The Rover is an astounding piece of filmmaking, as we stated in our theatrical The Rover review. Robert Pattinson is a revelation and Guy Pearce is his usual awesome self, taken to a whole new level. Now with The Rover landing on DVD, Blu-Ray and digital download, the entire world can see what the fuss is all about.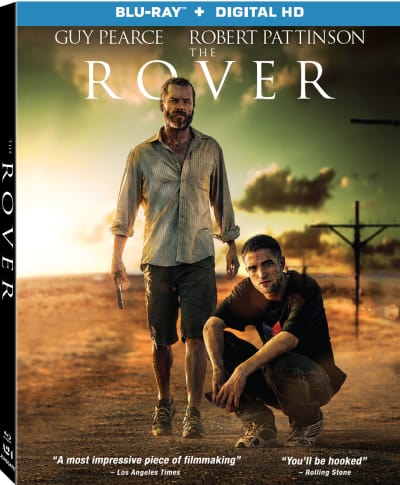 The film first arrived in theaters earlier this year in limited release. So the fact that it has arrived on home video is such a blessing to any Movie Fanatic out there as it is truly one of the best of 2014 so far.
The Rover trailer teases the tip of the iceberg that is this post-apocalyptic thriller. We're not really sure what happens that causes the world to crash and burn ten years prior to our film's beginning, but things are dire in the world and small patches of civilization are trying to keep it together.
Pearce is making his way through the Australian Outback and stops to have a drink at a roadside bar. When some baddies break down in their truck, they pile into his car and steal it -- racing into the steaming hot horizon.
As Pearce rushes out of the bar, it is clear there is something in that car that he absolutely has to have. Lucky for him, one of the baddies was left behind (Pattinson), so he takes him hostage and hops into another vehicle and the chase is on.
Director David Michôd (Animal Kingdom) has crafted a stunner on so many levels. Not only has he penned a film that makes you think about what you would do in a world like this, but also it works as a mind-riveting thriller that will keep audiences guessing until the credits roll.
And where to start with his two leads? Powerful beyond belief and we could not be more thrilled that the man we first discovered in Twilight (actually, Harry Potter) has grown into a powerhouse of a thespian that can go toe-to-toe with one of our fave actors in Pearce.
When it comes to bonus features, The Rover DVD and Blu-Ray is as stripped down as the film itself. There is only one and it is more than worth the price of admission.
Something Elemental: Making The Rover is a raw and bare bones look at how a movie gets made. Sure, the subject matter is dark and brooding like the Australian Outback, but Something Elemental: Making The Rover is truly rich and full of color in how it shows a brilliant filmmaker at work on a piece that he was clearly born to make. And to get the insight from him, as well as Pearce and Pattinson, on a film that is so clearly important to all those involved is utterly priceless.
Watch The Rover online now and witness movie magic that is rarely so brilliantly captured.