A Million Ways to Die in the West DVD Review: Does It Top Ted?
by Joel D Amos at . Updated at . Comments
Seth MacFarlane had an out-of-nowhere hit with Ted a few years back and he followed that up with a Western comedy, A Million Ways to Die in the West. We rather enjoyed the film, as you can tell from our theatrical A Million Ways to Die in the West review, but it didn't quite hit a Ted-like mark with audiences. Perhaps it was because of the uber-competitive summer movie season?
Well, now A Million Ways to Die in the West has come home on DVD, Blu-Ray and digital download for all of MacFarlane's fans to enjoy!
Whereas before MacFarlane provided the voice for those Ted quotes, this time out he's in full live action actor mode as a somewhat lost sheep farmer who believes that there could be no worse time in history for any human being than to live in the southwest of the late 1800s.
His girlfriend (Amanda Seyfried) leaves him for the owner of a mustache store (owned by Neil Patrick Harris, and his vocation leads to a fantastic musical number). Meanwhile, he lives in fear of a gunslinger (Liam Neeson), who wants him dead for harboring his wife (Charlize Theron). His best friend (Giovanni Ribisi) and his girlfriend (Sarah Silverman, as a hooker with the classic heart of gold) can only do so much and eventually, MacFarlane is going to have to stand up for himself.
What we found so hilarious in this film is how MacFarlane shows us how there are, literally, A Million Ways to Die in the West. As those A Million Ways to Die in the West quotes show, you can even die at the doctor's!
The cast of this comedy is top notch and seems to know MacFarlane's comedic beats down pat. The good guy who finds his mettle plot line we've seen a million times before, but Movie Fanatic thinks that it takes on a whole new feel with MacFarlane's comedic touch.
One of the greatest additions to the overall hilarity of MacFarlane's film is how it has arrived on DVD, Blu-Ray and digital download in an unrated version. As those who have seen his work on the long standing TV animated hit Family Guy know, this is someone who knows how to push the envelope with taste comedically. And with the ability to just put it out there with an unrated version, prepare to fall off your couch laughing.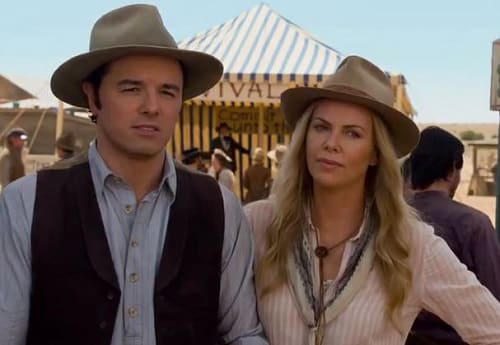 As for other A Million Ways to Die in the West bonus features, the gag reel is bloody fantastic and sheds a light on what an absolutely fun set MacFarlane must foster as the film's director (he also wrote and produced the flick).
We also loved the alternative ending, which only -- in our humble opinion -- further shows the brilliance of MacFarlane and his creative potential.
Once Upon a Time in A Different West is a fascinating behind-the-scenes look at the making of a Western comedy -- something that is not tackled too often in Hollywood. And not that MacFarlane is a Mel Brooks-type storyteller (yet), but there are shades of the icon and his Blazing Saddles seen when you watch this making-of doc.
And you don't want to miss the featurette The Good, The Bad and the Increasingly Decreasing Population. There are a slew of fantastic cameos that you won't have ruined here, but they are priceless and include some of the biggest names in Hollywood, as shown in that featurette.
As this is MacFarlane's baby, be sure to check out the unrated commentary with the uber-talent, who is joined by a few of his producers and someone who is absolutely and surprisingly hilarious, his co-star Theron. Someone needs to get this girl in more comedies!
Watch A Million Ways to Die in the West online and prepare to LOL.