Angry Birds Movie Reveals First Photo: Cast Announced!
by Joel D Amos at . Updated at . Comments
Well, after our call to Unlock the Flock for the Angry Birds movie, the world answered and we got that surprise that Sony Pictures Animation promised. Not only do we have the film's first still (below), the studio announced the cast for the highly anticipated animated movie based on the wildly popular video game.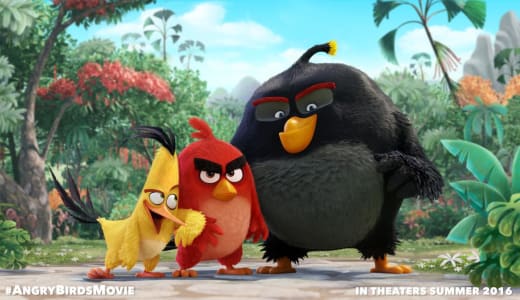 The main three Angry Birds will be voiced by Jason Sudeikis (his Horrible Bosses 2 trailer just premiered) as Red, a bird with a bit of a temper, Josh Gad (Olaf from Frozen) as the super fast Chuck, and Danny McBride (This Is the End) tackling the character of the don't-mess-with-him Bomb.
The voice cast will be filled out with a couple of SNL veterans, Maya Rudolph and Bill Hader. And they are joined by Peter Dinklage, Keegan-Michael Key, Tony Hale and Jillian Bell.
The producer of Angry Birds, John Cohen, is clearly excited about his vocal talents as he attempts the monumental challenge of capturing a phenomenon of a game on the big screen.
"I'm extremely proud of this cast. Not only do we have Jason, Josh, Danny, Bill, Maya, and Peter bringing these characters to life, but they're surrounded by an all-star ensemble of emerging comedic talent -- these are some of the funniest people out there today, and we're thrilled to have them all on board," Cohen said.
Want to know how much of a "thing" Angry Birds is? It has been downloaded over a billion times. Yes, that's billion with a "b."
Look for the Angry Birds movie on July 1, 2016. 
Check out Gad in another animated gem and watch Frozen online!