If you are one of those Movie Fanatics who adore Once, then do we have a true treat for you, Begin Again. The filmmaker behind the Irish set musical love story, John Carney, returns with a love letter to music itself and now that Begin Again is available on DVD, Blu-Ray and digital download, the whole world can share in its music movie mastery.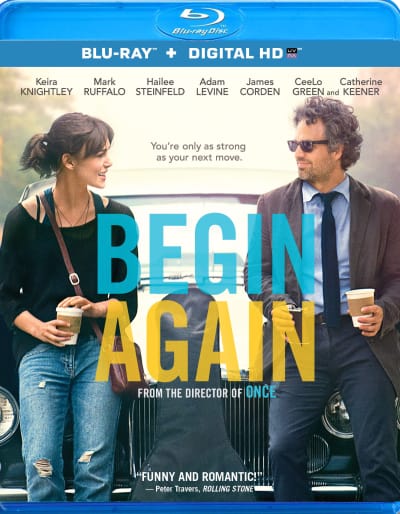 Keira Knightley stars as a singer-songwriter who comes to America with her boyfriend (Adam Levine) to make it in the music business. As soon as his career starts heating up, he leaves her.
Stagnant, alone and depressed, she seems to leave the world of music behind and just make it through her days. Then, a fellow musician friend calls her up on stage at a local club and once the crowd starts encouraging her, there's no saying no. She's not happy about it. But, she obliges.
In the crowd is Mark Ruffalo's music executive and he's in need of a new artist to save his career, and in lots of ways… his life.
As teased in the Begin Again trailer, the film features an incredible soundtrack, just like Once, but here the songs don't help drive the story as much as they provide the material for what will be the album that Knightley and Ruffalo are making.
We could go on and on about this movie as it is one of our Top 13 movies of 2014 so far, and for more on our thoughts, check out our theatrical Begin Again review. But what sets this home video release apart is the bonus feature on the making of Begin Again.
If you're a lover of music who also has an equally strong passion for film, The Making of Begin Again will be as much of a repeated viewing as the movie itself on the Begin Again DVD, Blu-Ray and digital download. It truly hits all the high notes.
There's experiencing the making of a movie from the point of view of a filmmaker charged with chronicling the film and then there's The Making of Begin Again featurette that truly takes us inside not only the making of the movie, but also the interweaving power of music that permeates this entire project.
Just watching Carney's Once and Begin Again, it's easy to see that the writer-director has a passion for combining his two loves, music and movies. But in the making-of documentary, we get into the heart of what makes this man's creative juices flow and it is nothing short of brilliant. It also leaves us beyond excited and with breathless anticipation for what he does next.
We can guarantee one thing -- it will sing. Begin Again sure does, like the most beautiful of vocalists.
And lastly, for fans of Levine, you will truly appreciate his music video additions to the Begin Again DVD, Blu-Ray and digital download.
Watch Begin Again online right now and prepare to witness a combination of music and movies that is a masterpiece.