Bill Murray Talks Ghostbusters: They're Trying to "Resurrect a Franchise!"
by Joel D Amos at . Comments
Bill Murray chimed in about the Ghostbusters all-female reboot in Toronto and gave his suggestions as to who would be good in the film. Now that it's moving forward with Paul Feig directing, it's about as good to go as the Ghostbusters 3 effort has been in years.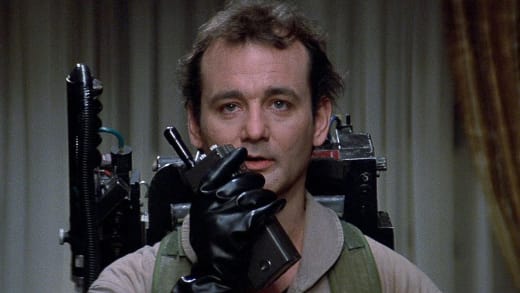 Murray has famously not wanted to come back to the franchise and you can imagine his thrill that they are in fact moving on without the original characters. When he got a Dan Aykroyd script for a potential Ghostbusters 3, he famously shredded it. Now, he's talking about why and the future of the series.
"I read one that Danny wrote that was crazy bizarre and too crazy to comprehend. It was kind of funny, but not well executed," Murray told Variety.
The superstar, soon to be seen in St. Vincent, also finds it interesting that the entire thing is even a discussion. "The studio gets really crazy about it. What they really want to do is resurrect a franchise. The first one was a spectacular movie, one of the greatest movies," Murray said.
But what about the sequel, Bill? "The second one was [makes an unimpressed sound]. It had some moves. It had a few good scenes in it. People say, 'Bill, you could get so rich!' I'm ok. I don't look it, but I'm doing ok."
He is still beyond proud of the work he did on the first film. He thinks it was lightning in a bottle, and trying to recapture it will only fail.
"Those guys, Danny and Harold (Ramis), were at the top of their game. They were burning nitro at that moment," Murray said. "Unless you have a really clear vision, you're always trying to recreate that."
Watch Ghostbusters online and it's easy to see why Murray is so proud. And check out 30 fun facts about the making of that movie from 30 years ago in the slideshow below.