Deliver Us From Evil DVD Review: Demon Detective Delivers
by Joel D Amos at . Updated at . Comments
A Halloween treat has arrived on home video this week with the release of Deliver Us From Evil on DVD, Blu-Ray and Digital Download. The horror film starring Eric Bana as the real life NYPD detective who investigates a series of occult related crimes, with the help of an exorcist priest, is right up the alley for anyone looking for a good scare.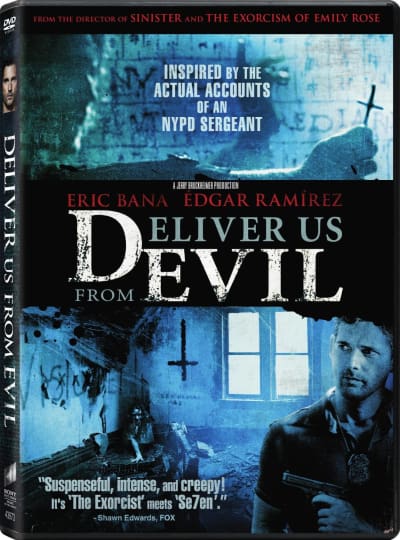 Scott Derrickson (Sinister) is back at the horror genre again, before he tackles Doctor Strange, and his love for the genre coupled with producer Jerry Bruckheimer's love of police procedurals provides an interesting mix of police detective storyline with a demon possession angle. Clearly the latter storyline dominates this film and it largely succeeds in that facet, as we reported in our theatrical Deliver Us From Evil review.
Sergeant Ralph Sarchie hooks up with Father Mendoza (Edgar Ramirez) as the two delve into a world that is terrorizing some and truly haunting Sarchie. The evil he is pursuing is different than the scum of the earth he usually puts away in jail. This terror even follows him home to his wife (Olivia Munn) and their child.
Derrickson is such a master and also a student of the horror world, so we recommend watching the film and then witnessing it again with his audio commentary. His insight into the highly specialized world of making horrors movies is utterly fascinating and a master class in macabre moviemaking. (That is why we are more than thrilled he's tackling Marvel's first foray into the supernatural world with Doctor Strange).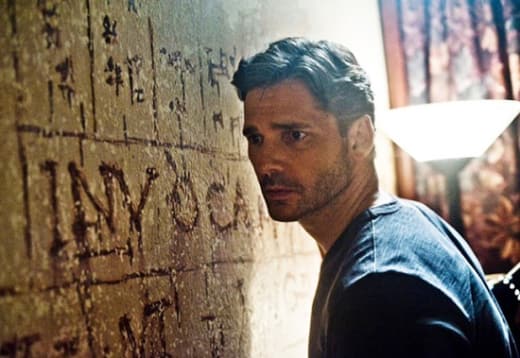 In terms of behind-the-scenes bonus features, the highlight is Deliver Us From Demons. It chronicles the making of the horror-thriller from its early inception with Sarchie's book through casting and how all of that prep work added up to their collective effort at bringing to life a realistic and believably bombastic demonic feel to their film. This is a movie that is based on the true case files of Sarchie and as such, if the "horror" of it all doesn't translate, this thing is as D.O.A. as one of the victims of the demon in the film!
The Two Sergeants also is a treat in that it shows how Sarchie worked with Bana and how the two connected on a level that produced one of Bana's best performances. Again, Sarchie's story is real and Bana had to get inside the man's head, in order to effectively bring his thrilling and truly haunting story to life.
And then Sarchie himself gets an intriguing featurette, The Demon Detective.
Sarchie has since retired and is working with a series of priests that are essentially a composite for Martinez's character. Following him along in his work with this featurette, one can see how the difference between the evil that men (and women) do to one another and that evil that is beyond that of human kind. Sarchie is a truly interesting fellow, and this bonus feature delves even deeper into his world than just the Deliver Us From Evil story.
Watch Deliver Us From Evil online right now for some true scares!