Edge of Tomorrow DVD Review: Watch, Breathe, Watch Again!
by Joel D Amos at . Updated at . Comments
Tom Cruise is back in top action form and in a big way with Edge of Tomorrow. The film might have started off slowly when it was released earlier this summer, but it finished with a bang when the flick's word of mouth made it Cruise's biggest hit as Edge of Tomorrow went over the $100 million mark to become one of the top 17 summer movies of 2014.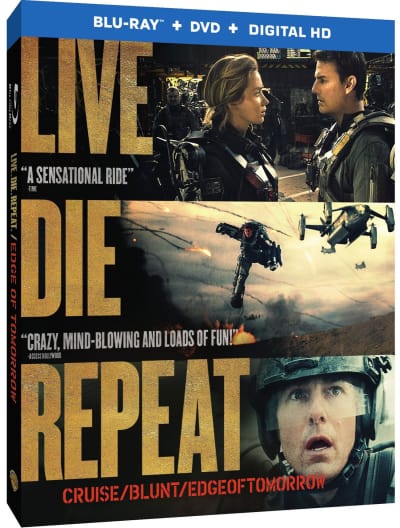 Now that Edge of Tomorrow is out on DVD, Blu-Ray and Digital Download, those who missed the superstar's best work in years and those who simply want to experience greatness again can check it out. And we like to paraphrase the film's tagline when we describe our feelings on it. "Live. Die. Repeat." is more like, "Watch. Breathe. Repeat."
It's that good, as you can see from our theatrical Edge of Tomorrow review.
Cruise plays a futuristic soldier who enters into a battle to save humanity against alien invaders who are "this close" to taking over our world. Cruise dies within minutes of landing on the beach. Then, he awakes at the beginning of that same day to only die again at the end of it.
See, he has to figure out how to do it right, and that might just hold the key to us surviving as a race. Oh, and Emily Blunt has a little something to do with his success or failure in this endeavor.
That's it from us in terms of plot because this thing needs to be seen to be believed in how awesome it is.
When it comes to bonus features for the Doug Liman (Mr. and Mrs. Smith, The Bourne Identity) directed thrill ride that is one of the most original sci-fi flicks we've seen in years, they are as good as the flick itself and only enhance the entire Edge of Tomorrow experience.
We recommend watching both versions that are available, the theatrical cut as well as the Operation Downfall -- Adrenaline Cut since we are suggesting that this film can be watched more than once. Check out how Liman has amped up an already adrenaline-filled film with even more thrills with his director's cut that might just take your breath away.
There are several featurettes that will more than satisfy the "how'd they do that?" questions that will surely arise from some of the more iconic scenes.
Storming The Beach explores that actual battle scene that is the one that Cruise has to repeat over and over before he moves further into his adventure. It recalls the opening scene of Saving Private Ryan, except if the Nazis were aliens that were a thousand times more merciless.
Weapons of the Future is another gem of a bonus feature in that this film feels like it is of the near future, so Liman and his team went to great lengths to ensure that the weapons they had their futuristic soldiers use look like something that could be relatable to today, but still just out of our reach of technological possibilities. Watching how they came up with these Weapons of the Future is nothing short of utterly fascinating.
And since this is an alien invasion movie, filmmakers sought to create interstellar invaders that were unlike any that audiences have seen before. Given all that has come before, that is a monumental task, and how they achieved it is chronicled in the outstanding Creatures Not Of This World.
Lastly, On The Edge With Doug Liman takes us inside the crazily creative process of the film's director who has had great success previously, but has truly outdone himself in the cinematic department on many levels with Edge of Tomorrow. After witnessing this documentary short on the film's director, we cannot wait to see what he does next.
Watch Edge of Tomorrow online and witness movie magic right now.