Brad Pitt and his battle-ready troops of Fury proved too much for Ben Affleck and his Gone Girl as the David Ayer World War II tank movie triumphed in its first week of release.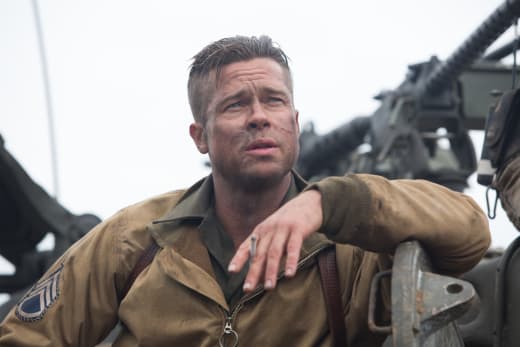 Fury took in $23.5 million in its opening weekend, besting the two-time box office champ that also stars Rosamund Pike as the title character.
Fury's first weekend haul is the most for Ayer as a director!
Gone Girl is now officially director David Fincher's highest earning film. With its second place finish and $17.8 million take, the film based on Gillian Flynn's bestselling novel has grossed a total of 107.1 million.
Third place belonged to the fantastical animated gem, The Book of Life. That Fox film banked $17 million in its first week of release, and was followed by another family film in fourth place, Disney's Alexander and the Terrible, Horrible, No Good, Very Bad Day. That Steve Carell/Jennifer Garner film based on the iconic children's book has now made $36.9 million in two weeks of release.
Closing out the top five is another new release, the film The Best of Me -- based on the Nicholas Sparks romance. The James Marsden-Michelle Monaghan starring heartstring-puller earned $10.2 million in its first weekend.
Box Office Top 10:
1. Fury, $23.5 million
2. Gone Girl, $17.8 million
3. The Book of Life, $17 million
4. Alexander and the Terrible, Horrible, No Good Very Bad Day, $12 million
5. The Best of Me, $10.2 million
6. Dracula Untold, $9.9 million
7. The Judge, $7.94 million
8. Annabelle, $7.93 million
9. The Equalizer, $5.5 million
10. The Maze Runner, $4.5 million