Guardians of the Galaxy is the number one movie of the summer and now Marvel has announced plans for its arrival on DVD, Blu-Ray and digital download.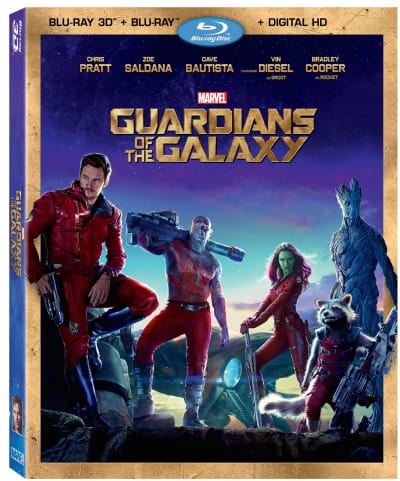 Look for Chris Pratt and his collective of unlikely heroes to land on Digital HD and Disney Movies Anywhere on November 18 and then on Blu-Ray and DVD on December 9.
The new-to-you superheroes joined forces in August and, at the time of this article getting published, have banked a total of $645 million in global gross.
The home video package promises hours of never-before-seen deleted scenes, a gag reel and most jaw-droppingly, an exclusive look at Avengers: Age of Ultron.
Pratt is Star Lord and he's joined by Zoe Saldana as Gamora, Dave Bautista as Drax, Bradley Cooper as Rocket Raccoon and Vin Diesel as the lovable Groot. Together, they are the Guardians of the Galaxy, and with Guardians of the Galaxy 2 already green lit, you'll want to watch this one again and again until we can get more of our favorite intergalactic heroes.
Marvel announced the following bonus features for the Guardians of the Galaxy DVD and Blu-Ray:
Never-Before-Seen Deleted Scenes
Making-of Featurettes
Exclusive Look at Marvel's The Avengers: Age of Ultron
Gag Reel
Audio Commentary
Check out our favorite Guardians of the Galaxy quotes and click through our slideshow of these stills that are visual marvels. Get it, marvels?!