When we caught up with Guillermo del Toro for his producing effort with The Book of Life, we had to ask about the latest with his highly anticipated sequel to Pacific Rim, Pacific Rim 2. His next film -- that he told us about in our Crimson Peak exclusive interview -- has completed shooting and now he's just working on effects.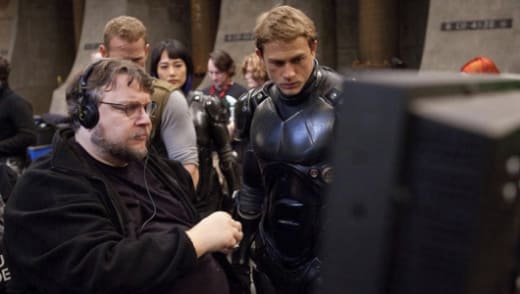 Does that mean that Pacific Rim 2 is next?
"No, I actually start with the Strain (his TV show) in November -- and I'm going to be shooting Creature Unit and Action Unit and I'll be shooting the Mexican black and white footage that appears in the movie, the series," del Toro said.
"Then I shoot a little movie. I start prepping Pac Rim immediately in May and we start production at end of November, early December."
Del Toro tells us that Charlie Hunnam will be in Pacific Rim 2, reprising his role from the first film. Hunnam is also in Crimson Peak. Del Toro compares Hunnam to another actor del Toro works with a lot, Ron Perlman.
"I work with him the way I work with Ron. He's part of the family. It's a great, effortless collaboration. Love him," del Toro said.
"The cast experience doing Crimson Peak has been unique in my career honestly. I think that other than Pan's Labyrinth, I haven't enjoyed the entire cast as much as I did on Crimson. Those are the two movies where everybody delivered."
Del Toro then explained why he would be making a small independent film instead of jumping right into Pacific Rim 2.
"I dress like (expletive). I don't drive a Porsche. I live in the Valley. I don't want to live in Beverly Hills. The goal is to make the movies that I want to make and support the people I want to support. That's it," del Toro admitted.
"I managed to have as many rubber monsters as I need. That's enough for me. Making small movies means you love the effort. When you make big movies the effort is fighting for freedom. When you make small movies it's about making the day, making the budget. When you get all the money and all the freedom, rarely you get the movie you want out of it."
Check out our wildly artistic poster gallery below for del Toro's latest, the in theaters now The Book of Life and get ready for the big-time sequel that everybody's waiting for and watch Pacific Rim online.