How to Train Your Dragon 2 Digital Download Review: Soaring Ever Higher
by Joel D Amos at . Updated at . Comments
After making a half a billion in box office, How to Train Your Dragon 2 comes home and we got to check it out on HD digital download, a full two weeks before its November 11 DVD and Blu-Ray release date.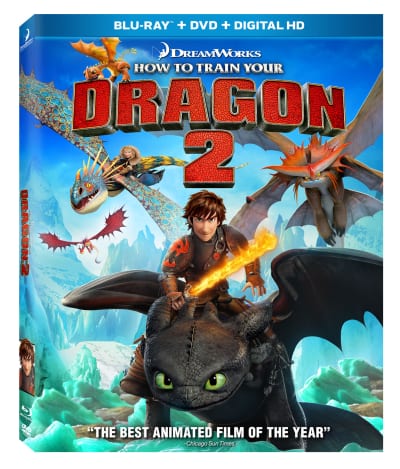 The sequel to How to Train Your Dragon commences five years after that first film left off and the world of humans and dragons has never been more harmonious. But, something evil is afoot and Hiccup (Jay Baruchel) and Toothless will discover it as they traverse the landscape of this world, making maps of previously undiscovered areas that surround their village -- as teased in this How to Train Your Dragon 2 trailer. 
Director Dean DeBlois has truly done it again with these characters that first enthralled audiences back in 2010. And might we say, he has even upped it a few notches in quality, thrills, emotional power and an impeding sense of danger that reverberates through How to Train Your Dragon 2 as it sets up the we can't wait to see it How to Train Your Dragon 3.
If this flick isn't nominated for Best Animated Picture, it will be a true crime. Baruchel has further grown into his character and with the introduction of Cate Blanchett as his long lost mother (no spoilers here as to how that happens and why), the heartstrings are sufficiently pulled -- and they even get stretched for dragon-kind as well because of it.
The cast of characters returns led by Gerard Butler and Craig Ferguson, as well as America Ferrera, Jonah Hill, Kristen Wiig, Christopher Mintz-Plasse and newbies Kit Harrington and Djimon Hounsou. And each brings even more gusto to the role and thus the film than they did the first time around. This film is truly special.
But, what about the bonus features?
Well, is it us, or have animated movies been killing it lately with hours of materials on their home video releases that enlighten the viewer into the filmmaking process, and also enhance the overall story in the process? How to Train Your Dragon 2 is no different. It is utterly sublime what DreamWorks Animation has given audiences with this digital download release.
Leading the way is Where No One Goes: The Making of How to Train Your Dragon 2. DuBlois and his talented team illustrate how they managed to top the original film and pushed the boundaries of animation and storytelling with their latest. Animation is an intense creative process and this featurette shows how passion meets talent and the results are mind-blowing.
For fans of the relationship between Hiccup and Toothless that drives why people adore this series in the first place, you will want to see the featurette Hiccup's Inventions in Flight. Secrets of how these two work together and form an unbeatable team are explored through an interactive tour that truly melds the worlds of fandom and filmmaking.
And one of our favorite characters, Berk, narrates the featurette that takes us inside his dragon stable in Berk's Dragon World. What a joy!
Speaking of characters giving us an inside look, Fishleg's Dragon Stats allows the viewer to test their knowledge of the dragons in the village and these quizzes should separate the true fans from those who need to brush up on their dragon history!
For those who appreciate and treasure the world of DreamWorks Animation, our last salute to the How to Train Your Dragon 2 bonus features may just be the best. World of DreamWorks Animation presents a slew of music videos from an entire cadre of flicks that has quickly put the studio on the map for animation awesomeness.
Watch How to Train Your Dragon 2 online right now and prepare to be amazed. And if you haven't seen it yet, be sure to start and watch How to Train Your Dragon online.