Dave Bautista is loving life right now as the Guardians of the Galaxy star has gone from superhero to super-villain in the span of several months. We have news that Bautista has signed on to be the next (great) Bond villain in Bond 24, set to face off against Daniel Craig's 007 when the film lands November 6, 2015.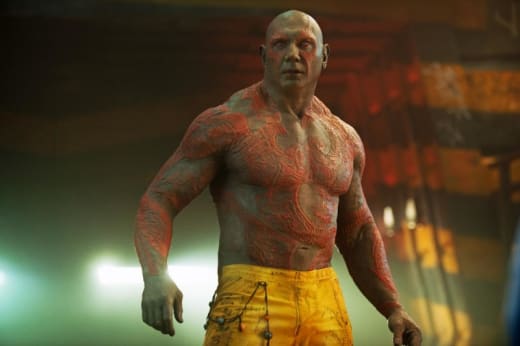 When we spoke to the actor for our Dave Bautista exclusive interview for Guardians of the Galaxy, he was so thankful to director James Gunn for giving him a chance because he felt that there was so much he could do in the world of film after his successful run in professional wrestling.
Clearly Bond 24 director Sam Mendes felt the same way.
As we previously reported, the Bond filmmakers, who are seeking to follow up the most successful film in their franchise (Skyfall), put out the call for a villain that recalled some of their most iconic, like Jaws.
We think Bautista will fit the bill impeccably and our excitement level for the latest adventure for the man with a License to Kill has grown ever higher.
Daniel Craig, Naomie Harris and Ben Whishaw will return for Mendes, as will Ralph Fiennes – who will be making his full film debut as M.
While we wait, watch Skyfall online and prepare for Mendes and company to up the ante.