Jason Momoa Dishes Aquaman: "I Don't Have to be Quiet Anymore"
by Joel D Amos at . Updated at . Comments
We've thought Jason Momoa would be Aquaman in Batman v Superman: Dawn of Justice for some time, but it was never truly announced. Whenever the actor was asked about it, he was coy with his response and it was one of the great mysteries of the DC Comics-Warner Bros. world.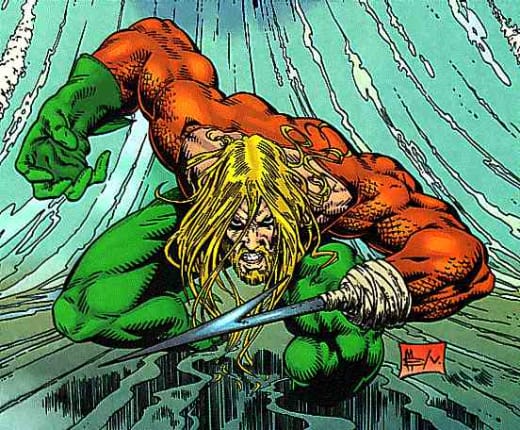 But now that DC Comics and Warner Bros. have announced a superhero slate through 2020 that includes a solo Aquaman movie, Momoa is free to not only admit that he is Aquaman, but he can share his thoughts and clear pride about being that water-based superhero who talks to marine life.
First, in his chat with ComicBook.com, he talked about his pride as a man of Polynesian decent to play such a man as Aquaman.
"I've rode some dolphins before, so I can pull on that. I did go to school for Marine Biology. The greatest thing for me is that Polynesians, our gods, Kahoali, Maui, are all these water gods, so it's really cool and an honor to be playing a water character. And there's not too many brown superheroes -- so I'm really looking forward to representing the Polynesians, the natives," Momoa said.
"My family are some of the greatest water men on earth. I'm not, but I'm going to go train with them. But it's really an honor just being a Polynesian. And water is the most important thing in this world and we all know it. It's cool to be a part of DC's universe. I'm really excited to be with Warner Bros., and hopefully everyone likes it. And Zack Snyder's a genius, so I'm really excited to be hanging out with him."
And it is clear that Momoa found it quite the challenge to keep his mouth shut all this time, with what seemed like the world asking him about being Aquaman.
"I was asked to play it. You know, you audition and stuff like that, but the fact is you've just got to keep it quiet. I was just trying to respect Warner Bros. and everyone's wishes," he said. "I'm really, really happy that I don't have to be quiet anymore, because that's really hard for me."
We know now that the Aquaman movie will arrive on July 27, 2018, but Momoa admitted that he knows little about it, and says that there are things that have to be taken care of first.
"I know about as much as you guys know. I know the Justice League will come first. That's really what we're going to focus on," Momoa said.
Check out the world of Batman v Superman: Dawn of Justice in the slideshow below, as we're betting we'll get our first glimpse of Aquaman in that film's closing moments!