Loki is no question not only one of the Marvel Cinematic Universe's most popular villains, he's one of their most popular characters. Heck, one could argue he's one of the most love to hate him villains in all of the movie world!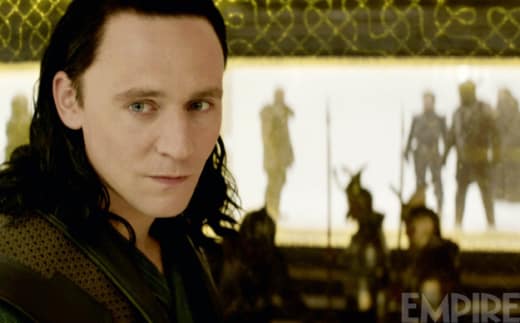 So, when can we see Tom Hiddleston's movie alter ego next?
According to Marvel Studio head Kevin Feige, look for Loki to return in Thor: Ragnarok, he revealed to us at the Marvel event that saw them announce their titles through 2019.
Last we saw him, Loki was taking the throne of Asgard after some serious bait and switch work, which can be seen when you watch Thor: The Dark World online. 
Feige also told us that the events of Thor: Ragnarok take place immediately following the end of Avengers: Age of Ultron. And for those who are familiar with either the Thor comic books or even Norse mythology, yes, the name Ragnarok means the apocalyptic battle that will result in the utter destruction of Asgard. Of course, Thor is the only one who can stop it.
The Marvel Studio head also compared this third Thor film to Captain America: The Winter Soldier and how the Russo brothers were brilliantly able to completely reinvent the Marvel would in one incredible cinematic stroke. Look for Thor: Ragnarok to do the same thing.
And with the reveal at the end of the presentation that Infinity War would be the title of the third Avengers film, an image appeared of Thanos holding the Infinity Gauntlet.