Million Dollar Arm DVD Review: Jon Hamm Pitches Perfect Game
by Joel D Amos at . Updated at . Comments
Jon Hamm left his Mad Men world behind and triumphed in his first Disney movie, Million Dollar Arm – out now on DVD, Blu-Ray and Digital Download.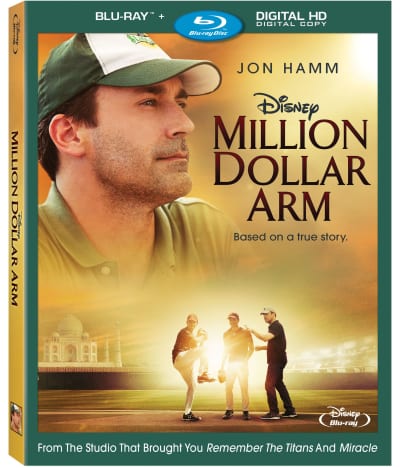 It's from the same people who brought us Miracle and that magic that can be seen when you watch Remember the Titans online. And yes, it's an unbelievable and inspiring true story about a man who goes to India to find the next big star for… baseball?!
Hamm stars as JB Bernstein, the real life sports agent whose agency was about to go under. To use a phrase from another sport other than the subject of Million Dollar Arm, he needed a Hail Mary to save his business.
What he got was much more than a business saving savior(s), he found a new lease on life, a soul mate and forged a bridge between two countries around a sport that is the national pastime of one and completely foreign to the other.
As teased in the Million Dollar Arm trailer, Bernstein heads to India and launches a reality TV contest that shares the movie's title. He is searching among a cricket crazy country for the next great Major League Baseball pitcher. What he comes home with is not one, but two potential players, and in this true story, we get to see their wild journey from novice to getting signed!
Given how the real life actors who play the baseball stars, Suraj Sharma and Madhur Mittal, did not know much about being a Major League pitcher, the bonus features favorites are led by the documentary short, Training Camp, which explores their own journey learning the game.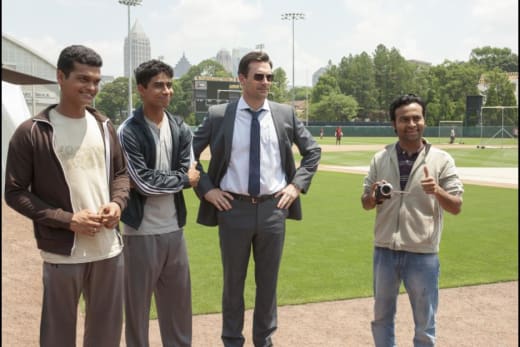 And for those wanting more about Bernstein and his players, Rinku and Dinesh, the Their Story featurette is absolutely amazing. What we see in Million Dollar Arm is fascinating and inspiring, but what is explored further in Their Story goes even deeper, and hearing from the real life inspirations for the Disney movie is priceless. We cannot recommend this bonus feature enough.
The biggest takeaway from Their Story is that what Bernstein, Rinku and Dinesh accomplished has changed the lives of tens of thousands of kids in India, as they now too play baseball with hopes of big league dreams. And yes, Million Dollar Arm -- the show -- still airs in that country!
We are huge fans of the work of composer A.R. Rahman, who came to wide attention with his Oscar-winning score for Slumdog Millionaire. He is the man behind the music for Million Dollar Arm and for fellow fans like myself, the bonus feature Million Dollar Music by A.R. Rahman takes us inside the movie-making magic of the award-winning composer and it is beyond fascinating to see how he comes up with his themes and melodies that enhance his movies. 
Watch Million Dollar Arm online right now!