Mr. Peabody & Sherman DVD Review: Blinded by Science!
by Joel D Amos at . Updated at . Comments
What is so tremendous about the DVD, Blu-Ray and digital download release of Mr. Peabody & Sherman is it shows how keenly aware filmmakers were to pay tribute to the original 1950s TV cartoon. It also shows how hard they worked to maintain the classic animated show's tone and reverence to scientific intelligence and historical importance as virtues.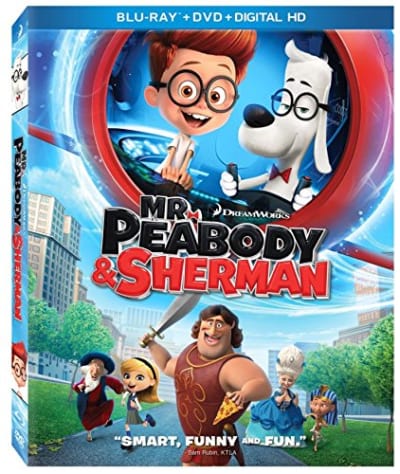 As you can probably tell from our theatrical Mr. Peabody & Sherman review, this film is entertaining and informative and incredibly well cast. The voice of Mr. Peabody is the key to the whole thing, and by getting Modern Family star Ty Burrell, they hit a home run.
The story of the world's smartest dog (who is probably smarter than 99 percent of the human population) and the boy, Sherman, he adopts is a unique one and the film tackles that premise head-on by having Sherman have trouble at school because of kids teasing him about who his father is. That is truly the catapult that sets our story in motion, as teased in the Mr. Peabody & Sherman trailer.
Sherman and the girl who bullied him have to meet and their parents try to work things out at Mr. Peabody's house. When Sherman tries to impress her, he shows her their WABAC machine -- a time machine -- and we're off across time and space!
As we said earlier, what impresses so much about this DVD, Blu-Ray and digital download release is the reverence for the original series. The bonus features also reflect that immensely as they contain many of the classic cartoons that amazingly have not only stood the test of time, but appear to be even more appropriate for today's audiences than ever before.
Fans may know that Mr. Peabody & Sherman premiered as a short during the Rocky & Bullwinkle & Friends Show and this home video set contains that 1959 premiere episode! That's priceless. There are also five segments from the original television series, one of which clearly inspired a segment in the film, Leonardo da Vinci. We also like to see Mr. Peabody & Sherman interact with icons in the others, such as Robin Hood, Louis XVI, William Shakespeare and Ludwig Van Beethoven.
Further exploring the delightful nature of this unique father and son story, they turn a classic phrase on its head for another joyous bonus feature. Don't miss the bonus feature History's Greatest Mysteries – A Dog and his Boy. Get it?! This is no boy and his dog story, it is the opposite and that is just one reason why we adore it!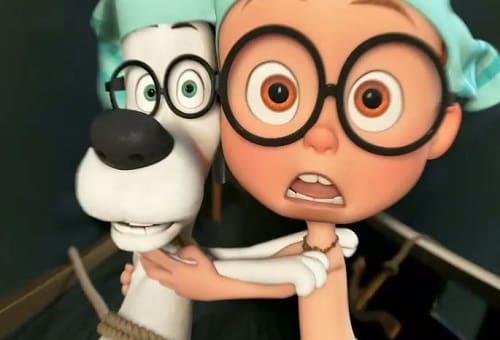 There are also several games included among the bonus features that will keep the youngest fans enthralled while teaching them some fantastic lessons about history. Be sure to check out Time Travel Memory Match Game and The WABAC Jigsaw Puzzle Game.
And two WABAC-centric featurettes celebrate the scientific "achievement" at the heart of the Mr. Peabody & Sherman world. Time Travel: Mad Science is just another example of the fantastic effort Fox did putting together this home video package as it got real physicists Kenneth Wharton and Anthony Aguirre to discuss the possibility of time travel. Think that is a compelling chat? You bet!
Then, lastly, hop on a tour of the WABAC machine, led by Mr. Peabody himself. Just like this entire Mr. Peabody & Sherman DVD, Blu-Ray and Digital Download, it is one fantastic ride.
Watch Mr. Peabody & Sherman online now and discover your next animated love.