Okay, which is it? After appearing on The Ellen DeGeneres Show and saying that Iron Man 4 will happen "sooner or later," Robert Downey Jr. went on Late Show with David Letterman and pulled a 180.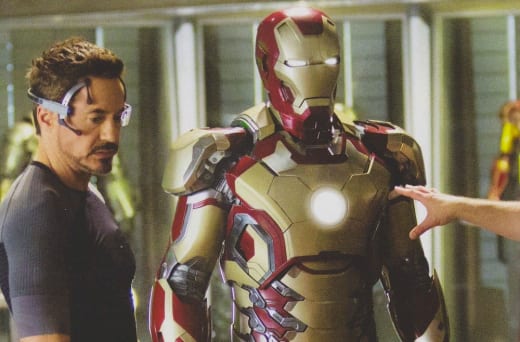 "There's no plans for an Iron Man 4. There's no script for Iron Man 4, but they do have a plan and I think they're going to announce it," Downey said. "You know, [Marvel's] very secretive about it."
Wait, what?
We know that Downey is under contract for The Avengers 3 and clearly from those Avengers: Age of Ultron photos we know that he will be in that flick from Joss Whedon.
Perhaps what the superstar is saying is that he will appear as Tony Stark/Iron Man again in other films, they just won't have that character's name as the film's title.
His next quote, when pushed by Letterman later in the interview, has that thought making much more sense. "Just between us, no, but I'm gonna do other stuff with Marvel," Downey said.
"I'm still going to be involved with Marvel and there's gonna be plenty of fun stuff to happen."
While he and Marvel figure it out, watch Iron Man 3 online and see the last time Downey rocked us as Stark.
And here's quite a few concept art photos of him as Iron Man in Avengers: Age of Ultron, along with the rest of that superhero collective.