Ouija Scares Victory Over John Wick: Weekend Box Office Report
by Joel D Amos at . Updated at . Comments
Despite some sub-par reviews, including our Ouija review, the horror flick based on the board game came in first place at the weekend box office with a $20 million debut. With Halloween next Friday, this should hardly be a surprise as it was the only new horror flick to open wide.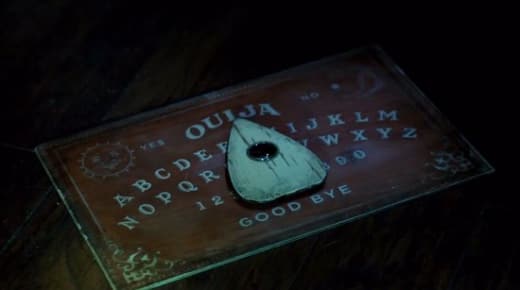 The Keanu Reeves action flick John Wick also did pretty darn well, coming in second with $14.2 million, Reeves' biggest debut in eight years (since The Day the Earth Stood Still). Hopeful the flick will continue to have legs and give us more John Wick stories in the future as it is truly a character that fits the 50-year-old star like a glove.
Third place belonged to last week's number one flick, Fury. The Brad Pitt-starring World War II actioner with those awesome Fury quotes banked another $13 million (a great second week result) to bring its cume to $46 million in two weeks.
Fourth found a former two-time box office winner in Gone Girl. Ben Affleck and Rosamund Pike's thriller kept the heat up by selling $11.1 million in tickets in its fourth week of release. Thus far, the David Fincher film is his highest grossing flick in his career with $124 million.
The film closing out the top five is the animated visual stunner, The Book of Life -- another perfect film for this time of year. Clearly audiences agreed, with its $9.8 million bank this past weekend.
Lastly, we could not be more thrilled with the sixth place finish of St. Vincent. Bill Murray stars as the title character and the independent movie scored big with critics and clearly audiences too as it landed in sixth with $8 million.
Box Office Top 10:
1. Ouija, $20 million
2. John Wick, $14.2 million
3. Fury, $13 million
4. Gone Girl, $11.1 million
5. The Book of Life, $9.8 million
6. St. Vincent, $8 million
7. Alexander and the Terrible, Horrible, No Good, Very Bad Day, $7 million
8. The Best of Me, $4.7 million
9. The Judge, $4.345 million
10. Dracula Untold, $4.3 million