Saw 10th Anniversary Exclusive Giveaway: Win Some Horrifying Swag!
by Joel D Amos at . Updated at . Comments
To celebrate the tenth anniversary of one of the most innovative and legendary horror movies of the modern era, Lionsgate is re-releasing Saw in theaters this Halloween for a special tenth anniversary run.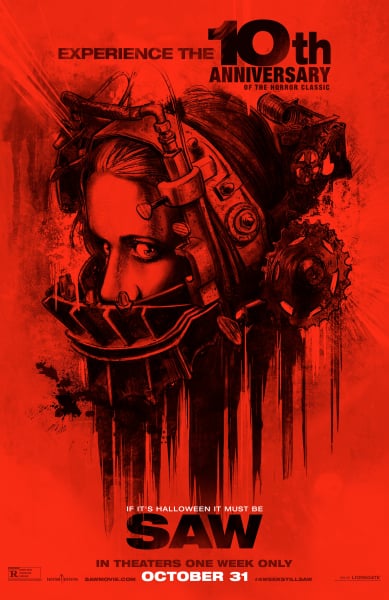 And to celebrate the film's return to cinemas -- that could not have picked a better holiday to return and mark a decade of cutting-edge (get it?) horror filmmaking from James Wan and Leigh Whannell (who would go on to make The Conjuring) -- Movie Fanatic is presenting one lucky reader with a Saw 10th Anniversary prize pack.
Our Saw 10th Anniversary grand prize winner will score:
5 Brand New Series of Collectable Saw Posters (Final Poster + 4 Mini Posters)
Saw Sticker
Saw 2 T-Shirt
Saw 2 Key Chain
Saw 3 Postcard
Saw 3D Bracelet
Use the widget below to enter on Facebook or Twitter. There are three unique ways to enter, and by entering all three ways you can increase your chance at winning!
Go see it in theaters this Halloween weekend (early shows begin the night before!), and why not watch Saw online and you can have it forever!