Sin City A Dame to Kill For DVD: Bonus Features & Release Date Revealed!
by Joel D Amos at . Updated at . Comments
For fans of Sin City, the news that after 10 years we were finally getting a sequel was music to our ears. Sin City: A Dame to Kill For arrived in theaters at the end of the summer and for those who missed it or for those who want to see it again, we've got news for its arrival on home video.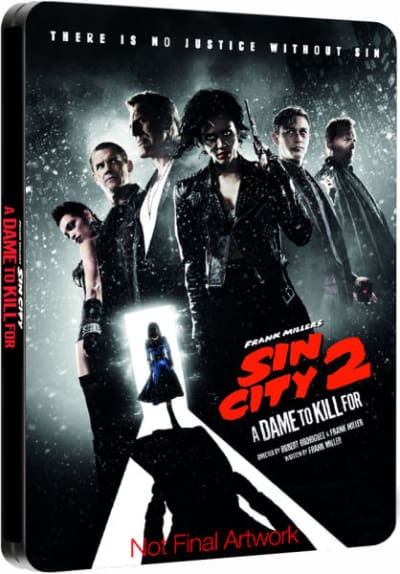 Sin City: A Dame to Kill For will land on DVD, Blu-Ray Combo Pack and 3D Blu-Ray Combo Pack on November 18, with an early release of the Digital Download version on November 7.
Frank Miller's graphic novel world comes to life anew as he co-directs this Sin City sequel with the brilliant collaborator from the first film, Robert Rodriguez.
This film series is about as close to a graphic novel being put on the big screen as exists so it'll be fascinating to witness the home video with the hi-def and 3D TVs that so many have nowadays compared to when the first Sin City arrived on DVD.
The cast has grown beyond returning Sin City veterans, as teased in this riveting Sin City: A Dame to Kill For trailer. Jessica Alba and Rosaria Dawson are joined by newbies Joseph Gordon-Levitt, Eva Greene, Dennis Haysbert, Ray Liotta, Jeremy Piven and Josh Brolin.
Oh, and Bruce Willis and Powers Boothe also return in thrilling manners, as you can see from these Sin City: A Dame to Kill For quotes.
Among the highlights of the Sin City: A Dame to Kill For Blu-Ray and DVD are:
The Movie In High-Speed Green Screen—All Green Screen Version
Makeup Effects Of Sin City With Greg Nicotero
Stunts Of Sin City With Jeff Dashnaw
Character Profiles
We're quite interested to see the film, with only the green screen version. What a unique idea!
While we're waiting, be sure to watch Sin City online and witness Miller and Rodriguez's world at home right now!