Disney has opened the vault (for a short time) and released their 1959 classic Sleeping Beauty on Blu-Ray. The film that inspired the blockbuster Maleficent has come home once again and for fans of the series, there could be no better news.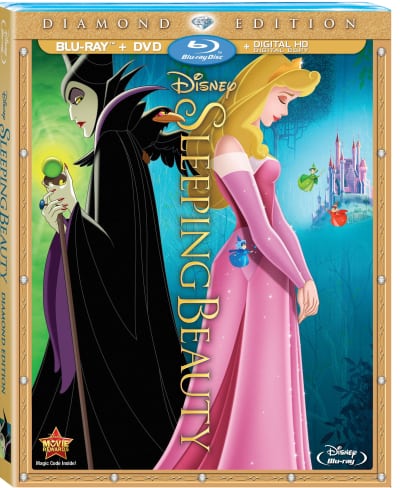 Besides the film landing in the highest definition picture and sound available, there are three never-before-seen deleted scenes and much more. Let's dive into that colorful world of Maleficent in full Walt Disney color.
The Sleeping Beauty Blu-Ray is out for the first time in the Diamond Edition Blu-Ray that includes the restored version of the iconic film, as well as the DVD and the Digital HD copy so you can take Sleeping Beauty's tale anywhere you want.
Sleeping Beauty, the film itself, is still as much of a masterpiece as it ever was. But, what is so impressive to us upon viewing it again after all these years is how well it has aged and also how incredibly ahead of his time Walt Disney was as a leader in cinematic animation. And we're not just talking about the visuals, which clearly are stunning on the Blu-Ray transfer.
Disney had the foresight to know that a film can look fantastic, but if it doesn't have a great script to bring a story to the masses, it has nothing. And if there isn't a top notch voice cast delivering the lines, then these characters truly are two dimensional. Sleeping Beauty might as well be in 3D, because there are no more fully developed classic characters than the ones in this 1959 icon.
Then, there's the score. Disney knew that the right music would add layers upon layers to the emotional pull of a story and that is exactly what we have here.
Now imagine all of that adding up to one incredible and jaw-dropping experience with the HD televisions and home stereo surround systems of today. This Sleeping Beauty Diamond Edition Blu-Ray will truly blow your mind.
One of the new bonus features is one to treasure and not just for fans of Sleeping Beauty. The Art of Evil: Generations Of Disney Villains featurette is a must-see and must-own for anyone who appreciates the villainy of Disney movies, old and new(er). Given that this is the Sleeping Beauty Blu-Ray, special attention is given to Maleficent and a fantastic portion of it spotlights the man who created her, animator Marc Davis.
There are also several deleted scenes that have never before been seen before this release. The gem of these clips is The Fair, which features a deleted character named The Vulture. It is fascinating to see a character that Disney created that we have never witnessed before. It's almost like getting a window into the creative world that we thought we knew, but find that there are aspects yet to be discovered!
And with the deleted scene Arrival of Maleficent, we honestly are wondering why this brilliant clip was cut at all! But, now we have it with the Sleeping Beauty Diamond Edition Blu-Ray… forever!
Lastly, this last new bonus feature is one the kids will love. There's a Beauty-Oke sing-along to Once Upon a Dream. If that isn't the perfect cherry on top of this brilliant package, we don't know what is.
Watch Sleeping Beauty online now and relive an iconic moment of cinema.
Where does Sleeping Beauty's Maleficent rank among Disney villains? Click through our slideshow below and see!