Snowpiercer DVD Review: Chris Evans Is A Different Kind of Hero
by Joel D Amos at . Updated at . Comments
Snowpiercer is one stunning piece of work, and one of our top 17 movies of summer 2014. And if you missed the Chris Evans-starring role that finds him as a whole different kind of hero than he is in the Captain America movies, what with all those other summer flicks demanding attention, now's your chance as Snowpiercer has arrived on DVD, Blu-Ray and digital download.
As teased in the Snowpiercer trailer, Evans is part of the "back of the train" on a speeding-across-the-globe vehicle that is carrying the last remnants of humanity. After a last-ditch effort to fix global warming actually does the opposite and sends the world into an Ice Age worse than the first one, a man invents a train that can run forever and whoever is left gets on board.
And like the world itself, it is separated by class, wealth, privilege and lack thereof. As would be expected, after 10 years of living like this under an authoritarian grip, a revolution is brewing. It's a question of when, not if, and who will lead? That's where Evans comes in.
The film astounds, as we reported in our theatrical Snowpiercer review. It raises many questions about our society as a whole and also is unbelievably entertaining. It is the most original science fiction film we've seen since The Matrix. Yes, those are heady words.
Snowpiercer's cast is astounding. Evans is absolutely riveting and the arc his character goes through serves as the eyes, ears and soul of the audience. It's as if we're living through him in this out-of-this-world adventure that is still very much of this world.
But the performer who steals the entire movie is Tilda Swinton. She plays a Margaret Thatcher-esque leader, who is the face for a mysterious man (Ed Harris) who controls all the puppet strings behind the scenes. Swinton deserves an Oscar nod for this role. Let's just hope the Academy remembers her come voting time!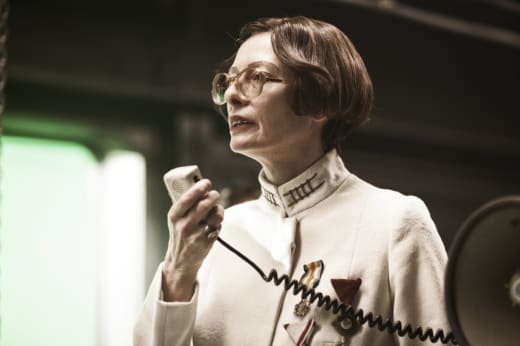 Director Bong Joon Ho has made his announcement as a filmmaking talent with this thrill ride. We cannot wait to see what the man comes up with next as his latest film is one that we will watch over and over and over, perfect for owning on DVD, Blu-Ray or digital download.
When it comes to bonus features, there are not hours and hours of it, but what is there is priceless. 
We do truly marvel at the bonus feature The Birth of Snowpiercer. It takes us behind the scenes of how this stunner came to be. Hopefully this featurette will inspire other filmmakers to deliver what Ho has given us and continue to push the sci-fi cinematic envelope. It's surely a genre that needs, and requires, it.
As this is such a special sci-fi flick, fans of the genre and movie nerds alike will treasure the Concept Art Galleries section. Watch Snowpiercer, check out the galleries, and then watch the movie again!
Lastly, Transperceneige: From Blank Page to Black Screen, well, let's just say it is a piece that you'll want to witness every time you watch the Snowpiercer movie itself.
Speaking of that, watch Snowpiercer online right now!