The Best of Me Review: Best Nicholas Sparks Movie Since The Notebook!
by Joel D Amos at . Updated at . Comments
Nicholas Sparks has a certain audience for his films and they will absolutely adore The Best of Me. Since The Notebook quotes have become almost iconic since the film arrived in 2004, a wider audience that treasures that sweeping decades-spanning romance have waited for something from Sparks' books to leap to the big screen that at least comes close.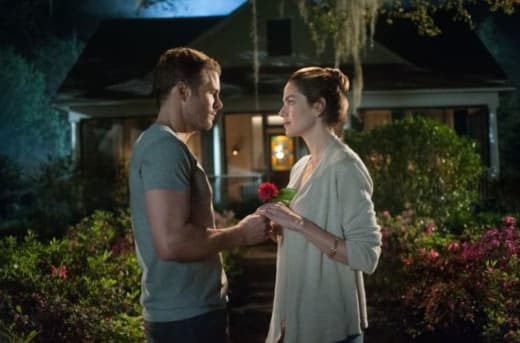 They have it with The Best of Me. It is by far the best page-to-screen effort from the North Carolina romance writer since Rachel McAdams and Ryan Gosling fell in love and made their mark on movie history.
As teased in The Best of Me trailer, Luke Bracey is Dawson and Liana Liberato is Amanda. They are in high school and despite their different stations in life, manage to find each other and fall in love. It is their first true love and it is captured impeccably by Sparks in his book, and translated to the screen by screenwriters J. Mills Goodloe and Will Fetters and executed with a firm hand that is equally romantic and dramatic by director Michael Hoffman.
Our film is not linear and neither was The Notebook. We go back and forth between Bracey and Liberato and James Marsden and Michelle Monaghan as the decades-later version of these two, who are now separated by time, regret and lives that do not include the other.
They are drawn back to their hometown by the death of a common friend and what they discover is that, as the film's tagline says, there can be a second chance at first love. But, things are complicated and Sparks' story manages to keep us guessing as to will they or won't they, right up until that fact is revealed near the conclusion.
The casting is impeccable, and also a bit tragic. When Paul Walker died, he was about to start shooting the role that Marsden would inhabit. But, Marsden stepped in beautifully and his chemistry with Monaghan is powerful and reflects the explosive first love fireworks emitted by Liberato and Bracey.
It is a tricky endeavor to cast two sets of lovebirds in a story like this. It might have seemed easier to cast the same pair -- who in real life are somewhere in the middle age-wise to where these two characters are. But kudos to everyone involved that this method works and works well. These two characters have changed so much by the fastballs and curveballs that life has thrown at them that it is easy to believe that they would be, essentially, completely different people.
Our The Best of Me review had one issue with the film and that is that it doesn't quite wrap itself up in a manner that is congruent with the rest of the movie. There are too many endings to a story that would be frankly better served by a more concise and straightforward means of concluding.
Watch The Notebook online for the Sparks standard of excellence!